What is it with the babies? Every time I went to Henry T's, there was at least one infant being doted on by a tableful of friends and relatives. Meanwhile, across the restaurant, customers were sliding beers down the bar and spouting ever-more insightful theories on Kansas University basketball.
It seemed incongruous at first, but less so later, as I concluded Henry T's may be Lawrence's best approximation of a pub, catering to a broad swath of local customers with reliable food, dependable TV reception and a faithful geyser of beer. You're as likely to see a college professor as you are to see the student failing his class; and here, they may even be sharing a pitcher.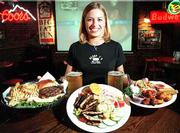 "Let's plan our month," my husband said, picking up a calendar that lists specials for every day of the month. Beer, burger baskets and buffalo wings all get their days of discount. Why, there's always a reason to go to Henry T's, or so they would like you to believe; if the daily specials don't get you, perhaps the "absolute best in town" chicken strips will. (I doubt this was an impartially conducted poll; they were, however, pretty darned good.)
Certainly there's not much atmosphere and what exists is too thick with smoke to be much enjoyed; the decor most closely resembles a guy's dream dorm room: basketball hoop over the door, electronic darts, NCAA tournament stuff everywhere. It's on the dingy side, but at least it's not sticky. TV, the great leveling influence among restaurants, brings even the nicest place down a notch, and brightens even the scuzziest. Henry T's uses this profound truth to its advantage, and, just to be on the safe side, also obeys the more-is-better maxim: nine sets ensure a minimum of required head-swiveling.
Goes well with beer
For the most part Henry T's serves a standard bar menu potato skins, buffalo wings, burgers, chicken sandwiches, etc. but there are a few sophisticated surprises, such as a yellowfin tuna sandwich or filet mignon, and even the more basic offerings are dressily detailed for maximum appeal.
Appetizers probably get even more action than the remote controls here, and while there isn't much originality of choice, the stand-bys stand up to scrutiny. The mozzarella sticks are hot and chewy and the buffalo wings just spicy enough to have you ordering more beer. I didn't much like the "poppers," big breaded globs of cream cheese and jalapebut perhaps they were OK as poppers go. The potato skins, gladly, hadn't been scalped of potato, and they were generously topped with cheese, bacon, tomatoes and green onions. They struck me as a better kids' meal than a corn dog you know, for when all those babies grow up.
The salads used standard ingredients but were fresh and crispy, and with nary a Bac-O in sight; the "hand-crafted" soup, however, needed more handling or more crafting. It was better than canned, and the broccoli cheese flavor actually wasn't bad, but the consistency was so thick to be almost goopy. Also, I prefer to be able to identify the broccoli rather than just going on faith that those green flecks are indeed cruciferous.
Bless this mess
Here's a rule of thumb for Henry T's: order either 1) something that can be eaten entirely with silverware, or 2) plenty of extra napkins. My Malibu chicken sandwich was an overstuffed, juicy pile of chicken, smoked ham, pineapple, peppers and provolone. It was very good but very messy.
Likewise the steak sandwich, which was smothered in cheese and mushrooms and served au jus. Likewise the buttermilk chicken sandwich, although if you're just going for the sauce on this one, I'd recommend the pasta version of this particular taste sensation. I was tidier with the TNT tuna, a grilled yellowfin steak. It, too, was quite good, though the jalapeayonnaise needn't be so tame.
Newly added to the menu, the buttermilk chicken fettuccine is a savory answer to the forward-thinking question: "What can I order for lunch and have enough left over for dinner?" There's enough for two comfortable servings, maybe even three. Buttermilk, garlic, ranch dressing and honey mustard are combined into a rich and tangy sauce that's tossed with pasta and chicken fingers.
Service at Henry T's was prompt and friendly: there were a lot of waitresses, many of whom were merely standing around yapping at any given time, but there was always someone available, so I am not going to begrudge them a friendly yap. Anyway, what's the hurry? Just watch TV if you have to wait a minute, start concocting your theory on the Royals, and whisper it into the ear of the nearest baby. You gotta start 'em young, and Henry T's is as good a place as any.
Copyright 2018 The Lawrence Journal-World. All rights reserved. This material may not be published, broadcast, rewritten or redistributed. We strive to uphold our values for every story published.