Summers don't have to be spent lounging at the pool or vegging in front of the TV. Teens who want more of an adventure during their summer vacations can opt for North Carolina Outward Bound.
The high-adventure camps, which range from five to 28 days, are divided by activity sea kayaking, whitewater rafting and a classic Outward Bound course that includes backpacking, rock climbing and whitewater canoeing. During the sea kayaking camp, which is new this year, participants will paddle along the Core and Pamlica sounds.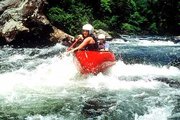 Outward Bound camps are open to teens ages 14 and up, but camps are grouped by age 14-15, 16-17 and 18-plus. The camps aren't cheap. Costs range from $695 to $2,895, depending on camp activity and length. Some need-based scholarships and financial aid are available.
For more information, call (877) 776-2627, send e-mail to challenge@ncobs.org or see www.ncobs.org/summer.html.
Copyright 2018 The Lawrence Journal-World. All rights reserved. This material may not be published, broadcast, rewritten or redistributed. We strive to uphold our values for every story published.