A landmark hotel in downtown Lawrence is making history again.
The Eldridge Hotel this week became the first hotel in Kansas to be included on a list of Historic Hotels of America, a program organized by the National Trust for Historic Preservation.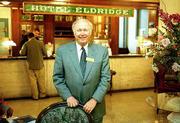 The program an association of trust-selected hotels based upon their historic integrity, architectural quality and ongoing preservation efforts made by owners and managers is expected to boost business for the Eldridge, 701 Mass.
The hotel is counting on its anti-slavery beginnings and landmark status to help improve upon last year's 12,000 bookings of rooms, said Rob Phillips, general manager.
A target market: The trust's 220,000 members who, on average, are at least 55 years old, earn more than $90,000 a year and take up to five domestic trips annually.
"It's a market niche," Phillips said. "We're out there trying to drive reservations to our property, and this is one more means for doing that. There are many people appreciative of preservation efforts and places that are saved, and this gives us an opportunity to touch base with those people."
To qualify for the program, a hotel must be at least 50 years old, be listed in or eligible for the National Register of Historic Places or be recognized locally as having historic significance.
"We're looking at everything from The Plaza in New York, The Biltmore in Los Angeles and The Greenbrier for great resort properties to hidden gems in smaller destinations," said Mary Billingsley, of the association in Washington, D.C. "This is our first one in Kansas. It's great."
The current Eldridge provides 48 suites on the site of the original Free State Hotel opened in 1856 by members of the Massachusetts Emigrant Aid Society, the group of free-state settlers who had founded Lawrence two years earlier.
The Free State having served during construction as a bastion for free-state forces had managed to be open for a day before it was burned by Sheriff Sam Jones, on orders from a pro-slavery federal judge. Col. Shalor Eldridge had the place rebuilt, only to see it burned again during Quantrill's Raid in 1863, an attack that left 150 Lawrence residents dead.
The rebuilt hotel then took the Eldridge name; it was razed in 1925 to make way for the current building.
Such historic background the hotel already is listed as a landmark on the National Register of Historic Places can help build business in the expanding market for historical tourism, Billingsley said.
"Heritage and cultural travelers stay longer and spend more money," she said. "They're looking for places that add to their experience, and that (the hotel) is part of their memory where they went and what they did."
Phillips is hoping to boost his occupancy rates, which he described as being in "the high 60 percents." He hopes to hold his ground as a new Spring Hill Suites by Marriott is developed in the nearby Lawrence Riverfront Plaza, and a Holiday Inn Express is built along South Iowa Street.
He's counting on getting help from the Eldridge's history, told through marketing materials, directories, trade shows and Web sites operated by the trust's Historic Hotels of America program.
"John Brown made a speech from the corner of this building," Phillips said. "This hotel played a role in the establishment of Kansas as a free state, which was a big part of keeping this a free country. Now we'll be able to tell the story farther and more often."
Copyright 2018 The Lawrence Journal-World. All rights reserved. This material may not be published, broadcast, rewritten or redistributed. We strive to uphold our values for every story published.