"I'm staying" is becoming a popular saying at Kansas.
Sophomore forward Drew Gooden on Tuesday night copied coach Roy Williams' summertime announcement, telling a KU Basketball Awards Ceremony crowd of 1,000 he'd decided to return to college for his junior season.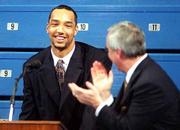 Gooden made his declaration while accepting the Bill Bridges Rebounding Award in ceremonies at Allen Fieldhouse.
Williams, of course, declined a coaching offer from North Carolina, declaring his love for Kansas before 16,300 fans last July at Memorial Stadium.
"I talked to coach (Roy) Williams last night and said my mom would be here today. I thought this would be the perfect time to tell her I was staying in school for my junior year that I was coming back,''' Gooden said, the fans leaping to their feet for a standing ovation.
Gooden's mother, Ulla, was in favor of her son putting the NBA Draft on hold for at least another year.
"I feel it is in my best interest and heart to come back to KU," Gooden said. "I do want to play in the NBA someday, but now I want to be here trying to win a championship. It's been two years since we put a new banner of any type up in the fieldhouse and that is my dream for next year. I really want to be here with my teammates and the new players coming in."
Gooden's announcement came as a surprise to his mother and his teammates. The 6-foot-10, 230-pounder from Richmond, Calif., kept it a secret after informing Williams of his decision Monday.
"I think Drew would be a No. 1 draft choice. Do I think he'd be a lottery pick? 'No,'" said Williams, who met with three NBA officials on Sunday at the Portsmouth Invitational Tournament for NBA prospects in Virginia. "Do I think he has a chance to be a lottery pick before his playing career is over? 'Yes.'
"I think going in the first round shouldn't be your only goal. You should want to be the best you can possibly be. I think over time he can be better than first round.
"NBA people like him. They think he's going to be a player."
Williams never thought Gooden would leave after just two seasons.
"From the outset of this process Drew indicated he was strongly leaning toward returning to KU but both of us thought it was wise to have the information," Williams said, noting he'd met with Gooden "two or three times" since the season ended.
"I've had players come to me before and say they think they'll be a No. 1 draft choice and not even be close. I've also had players think they won't be drafted and that's not even close, either. You can't listen to every Tom, Dick and Harry on the street. Fortunately I've got some very good friends in the NBA that'll be honest with me, give me the true information. Information is always good."
As far as the timing of the announcement?
"I told Drew (Monday) that was enough information for him to make a decision and considering from Day One he was leaning to coming back it was something that was pretty easy for him," Williams said. "I said, 'You're going to win the rebounding award so why not think about doing it at the banquet?' At that time he thought it'd be neat to do it for his mom, too.
"She and I talked during the process. There's no doubt what his mom wanted him to do to stay in school."
Gooden declined interview requests after the awards dinner, indicating his statements would stand.
"Paul and Raef said, 'I'm staying' at the barnstorming game one year," Williams said of Paul Pierce and Raef LaFrentz telling 8,000 KU fans during a charity game timeout they'd be returning to college.
"I asked Drew to say a little bit more than that. Some of this is personal stuff, too. I don't think it's right for me to tell you guys (media) everything that goes on (in player-coach discussions)," the coach concluded.
Copyright 2018 The Lawrence Journal-World. All rights reserved. This material may not be published, broadcast, rewritten or redistributed. We strive to uphold our values for every story published.