After several years living in Lawrence, Bill and Cheryl Wilson decided to return to the country.
And in doing so, they've helped Douglas County buck a trend that's seen the number of small farms decline drastically, both in Kansas and across the nation.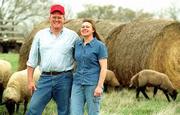 Bill Wilson grew up on a farm near Lone Star and wanted to go back to his roots. The family bought 20 acres south of Eudora, and now they have several sheep, including six new lambs. They also rent some nearby pastureland to raise cattle.
For the Wilsons, the rural life has been a blessing and a great place to raise their six children.
"There's the saying that you can take the boy out of the country, but you can't take the country out of the boy," Cheryl Wilson said. "Well, we just enjoy living out here. The kids have a lot of space, and they never could have had the animals in town."
Bill and Cheryl Wilson both work full-time jobs. Bill Wilson takes care of the livestock before he goes to work in Lawrence, or his wife helps feed the sheep near the house since she runs a day care at home.
Farm numbers grow locally
Small-time farmers like the Wilsons are becoming more common in Douglas County. As the county's population has grown, there's been an increase in the number of small farming operations.
According to recent estimates by the Kansas Agricultural Statistics Service, the county has 880 farms with 223,000 acres devoted to crops or livestock. Douglas County extension agent Bill Wood said the number of farms is growing, and predicted the growth will be reflected in official statistics late next year when the KASS conducts its five-year farm census.
"In Douglas County, we've seen the number of farms increase while the acreage of farms has decreased because houses are eating them up," Wood said.
Meanwhile, across the state and nation, the number of farms has continued to decline.
The annual survey of farms by the U.S. Department of Agriculture estimates the number of farms and ranches in the United States dropped by 0.9 percent in 2000 to 2.17 million, the smallest total in the 90 years recorded by USDA. Kansas lost more than 1,000 farms last year. In 1999, Kansas had 65,000 farms.
By USDA definition, any operation that sells more than $1,000 a year in agriculture products, or has the potential to sell, is classified as a farm.
Wood said using the $1,000 definition is not an accurate portrayal of the size of the average Kansas farm, which is 742 acres, or how many are disappearing.
"The statistics would say we're getting more farms, but it would be more realistic to use around $50,000 for annual sales," Wood said. "Right now, someone who moves to the country and buys a horse or a couple of cows is considered a farmer" by USDA, he said.
'Ranchettes' up
Wood said he has talked with several newcomers who want to raise everything from chickens and rabbits to goats and horses. He recommended people have a minimum of four acres for one horse or five or six goats or sheep.
"We help a lot of people who move out to the country and have what we call ranchettes, or they're city farmers who have never had any experience caring for livestock," he said.
The second- or third-generation farmer is slowly becoming a dying breed in Douglas County, he said. Often, if a farmer dies and the family doesn't rent or lease the land to another farmer, Wood said, the ground is sold to a developer who can afford to pay $5,000 to $10,000 per acre instead of the average $1,000 per acre if the land remained in farming.
"You can't blame someone for selling," he said.
Bigger for survival
Other farmers, such as Chip Hornberger Jr., have increased the size of their farms to make a living.
Hornberger grew up on a farm near Lone Star, which his dad purchased in the 1940s. He has continued farming since his dad died a few years ago.
"I've gotten a little bigger and taken on a few more acres, so we now have 320 acres with dairy cows," he said. "When my dad started, he was more diversified and had a little bit of everything, but we went solely to dairy and the crops we have go to feed the animals."
Nationwide, the trend toward bigger but fewer farms has continued. The average size of U.S. farms inched up by two acres to 434 acres last year. That compares to 213 acres in 1950, the first year the statistic was available.
Hornberger said it's a matter of survival. Farmers must increase the size of their farms or rely on off-farm income. He said his wife, Jan, works as an agent for the Farm Bureau because it's difficult to support a household solely from farming.
"Some farmers are getting bigger," he said. "They have to get bigger to be able to farm because the cost of machinery and production has gone up tremendously. There's also getting to be a lot of weekend farmers who have a job in town in order to be able to live out in the country and farm a little bit."
In an ideal world, Bill Wilson said he would like to own more acres so he could be a full-time farmer.
"Your roots do run deep," he said. "I love farming. I just wish I could make a living doing it, and I wouldn't have to come to the city."
Copyright 2017 The Lawrence Journal-World. All rights reserved. This material may not be published, broadcast, rewritten or redistributed. We strive to uphold our values for every story published.