National Guard soldiers helped pile sandbags Sunday as rivers fed by melting snow and rain rose quickly in Minnesota and the Dakotas.
The focus of attention Sunday was the Red River, which flows northward between North Dakota and Minnesota and caused devastating flooding four years ago in Grand Forks, N.D.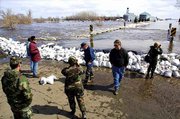 Guard soldiers helped with security, rescues and evacuations at Breckenridge, Minn., where the river was at 16 feet and expected to crest at 19 feet during the middle of the week. Flood stage is 10 feet but the city is protected by a system of dikes and pumps.
South of Breckenridge, guardsmen stacked sandbags at the tiny town of Dumont, as the Lake Traverse reservoir rose toward the town.
On the North Dakota side of the Red River, Fargo Mayor Bruce Furness put the city's flood-protection plans into high gear Sunday and said work would begin immediately on an earthen dike to keep the river out the downtown district.
The goal was to build the dike high enough to protect Fargo against 36 feet of water, the crest the National Weather Service forecast for Thursday or Friday. Flood stage is 17 feet and the river was at just over 27 feet Sunday night.
Grand Forks officials issued a new flood warning Sunday afternoon as the Red River rose past 36 feet there, up more than 4 feet since Saturday morning and on its way to a forecast crest of 43 to 45 feet. However, the city had already been shoring up its dike system, which protects to a river level of 50 feet, said city spokeswoman Christine Page Diers.
Grand Forks did not have that dike system during the devastating flood of 1997, when much of the city had to be evacuated and hundreds of homes were lost.
The Red River and others streams in the Upper Midwest were being filled by rapidly melting snow and heavy rain dumped by a storm that swept across the region Saturday.
Other rivers in eastern South Dakota were still rising, including the James River, which was 6 feet over flood stage at Huron. New dikes were expected to spare the town from a repeat of its 1997 flooding.
Copyright 2018 The Associated Press. All rights reserved. This material may not be published, broadcast, rewritten or redistributed. We strive to uphold our values for every story published.