Sure, Lawrence's music scene is diverse. It's also loud, smoky and hard on those who need a few hours sleep before heading off to work.
For some many, in fact these are welcomed, time-honored rituals. Music's endured as much as it's enjoyed.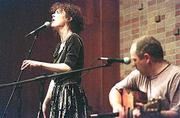 For the rest, there's West Side Folk, a nonprofit group that usually puts on three to four delightfully low-key concerts a month.
The two-hour concerts almost always start at 7:30 p.m. There's no smoking, no alcohol (i.e.. no drunks), and a lot of listening.
"We draw people who come to listen to the music, and we try to present the artists in a way that shows respect for them and their music," said Bob McWilliams, West Side Folk's founder.
There's also a certain, hard-to-define "vibe" at West Side Folk concerts.
"There's sort an attitude that says 'We're all part of the same community,'" McWilliams said. "The artists are very accessible, there are no barriers between the artist and the audience. After the show, they hang around and you're free to talk to them, get an autograph, buy a CD."
"I like to think that what we do is real alternative music because, when you think about it, no one else does what we do. We are the alternative."
Top-notch musicians
Though few West Side Folk performers qualify as household names, they're all top-notch musicians, accomplished songwriters or just fun to be around.
A short list of semi-regulars includes Richard Shindell, Patty Larkin, Cheryl Wheeler, Ellis Paul, Lucy Kaplansky, and Robin and Linda Williams.
Dar Williams, who draws 500-600 people when she plays Liberty Hall, played at one of West Side Folk's first house concerts in 1994 during her first cross-country tour. She's been back almost every year.
"In a lot of ways, West Side Folk and Dar Williams' career are intertwined," McWilliams said. "The first time she played here we had about 35 people. She left here for Denver, where six people showed up.
"In turned out that Lawrence was one of her best-attended concerts on the tour. So she's always liked playing here."
A series by any other name
The West Side Folk name is a little misleading. Though most of the concerts feature folk music, there's also bluegrass, Celtic, Irish, old-time, country and Cajun.
And two of West Side Folk's three regular venues aren't exactly on the west side: Ecumenical Christian Ministries, 1204 Oread Ave., is near the Kansas University campus; Plymouth Congregational Church, 925 Vt., is downtown.
St. Margaret's Episcopal Church, 964 U.S. Highway 40, is, in fact, on the western edge of town.
West Side Folk's governing board has toyed with changing its name, McWilliams said, but, so far, the costs and hassles of adopting a new identity have outweighed the benefits.
"In acoustic-music circles, the name West Side Folk is very well-known. People seek us out, they know who we are," he said. "Once you get that kind of name recognition, you really shouldn't mess with it."
Initially, the name referred to a west side church that hosted some of the groups early concerts. That church no longer hosts West Side Folk events.
None of the three venues charge West Side Folk for the use of their buildings. Instead, a portion of the proceeds usually $100 to $200 is set aside for a local charity.
Some of the concerts draw only a handful of listeners, others attract a few hundred.
West Side Folk events are not cheap. Depending on the artist, non-student tickets usually range from $10 to $15.
"You can go to a club somewhere and hear the same artist for $5," McWilliams said.
"But that club makes its money on booze sales. We don't do that. And wouldn't you rather pay twice as much and get to hear the music than pay half as much and not hear the music?"
West Side Folk concerts attract all kinds of people.
"We are a diverse group," McWilliams said. "We get the baby boomers who grew up on James Taylor and Simon and Garfunkel, but we also get the younger crowd that's into the roots or bluegrass movements.
"But everybody, I think, is there because they're looking for music of substance. They're there to listen, they're not there to talk and have a few beers."
His 'real job'
Besides his West Side Folk chores, McWilliams, 46, is a KANU-FM 91.5 disc jockey. He runs the Monday-Thursday evening jazz show and Sunday's six hours of "Trail Mix," a eclectic blend of Celtic, folk and bluegrass music.
KANU pays McWillams for what he does; West Side Folk does not.
"I have no financial stake in West Side Folk," he said. "It's all volunteer."
McWilliams is no ordinary disc jockey. A KU graduate, he has a law degree from Harvard University. He was a law clerk for U.S. District Court Judge Frank Theis, Wichita, from 1977 to 1980.
"I'm just not cut out to be a lawyer," he said. "I'm happier doing music."
Copyright 2018 The Lawrence Journal-World. All rights reserved. This material may not be published, broadcast, rewritten or redistributed. We strive to uphold our values for every story published.