Randy Weseman is proof a drooler can become superintendent of one of the largest public school districts in Kansas.
Turn back the clock 40 years at Dighton Elementary School, a tiny building in a tiny town 60 miles north of Garden City. At that time, Weseman had a huge crush on his third-grade teacher. He went as far as to fabricate reasons to swagger up to her desk and chat.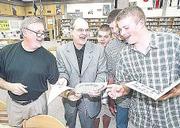 "She was 22, beautiful and intelligent," Weseman said. All was well until the day Weseman let a nugget of saliva slip from his mouth. It made a pitiful crash landing on her forearm. "She didn't miss a beat. Didn't say a word. I walked back to my desk speechless."
Despite that blot on his record, Weseman built a career in Lawrence that led to appointment last fall as superintendent of the district's school system. Weseman, a guy who loves vintage guitars, is now responsible for setting the tone for a school district with 10,300 students.
"This is where I want to be," Weseman said.
In the future, he said, the district must have a system that enhances educational opportunity for all students.
"Every parent is pretty specific about what they want. The question is: How do we design a program for 10,300 families?"
Setting the stage
As superintendent, Weseman would like to clearly demonstrate to the community that teachers and administrators in the district are passionate about working in the best interests of children. He wants to do everything he can to create a safe, stimulating environment for students.
He wants to set the stage for youngsters to fuel their dreams.
"That's the kind of school district this community wants," Weseman said. "This community wants to be on the creative edge."
He said he would press to improve achievement on assessments based on local, state and national standards.
The best means of achieving success on tests is the hiring and retention of excellent teachers not the introduction of some new-fangled instructional strategy.
"I've heard over and over again if we get good, dedicated, solid teachers in there, kids will start learning. This is a people business," he said.
Students in the district should understand the efficacy of education, he said.
Children need to be convinced that school can make a significant difference in their lives and that they can be an influence on others as they grow up, he said.
Weseman stressed, "Empowerment to make a difference that's the job of public education."
Weseman said he's also committed to regaining the community's trust in the district. That relationship was damaged by conflict over school closings, bond issues and other issues during the past decade.
He's conducting small meetings with parents, teachers, administrators and members of the business community.
Sometimes they meet for coffee and conversation, while other times they come together for lunch.
Basically, he said, folks can talk about any education issue on their mind. Even after 25 years as a teacher, principal and administrator, he still learns from the gatherings.
"That's been one of the most worthwhile things I've done in my career," Weseman said.
He said the district had a duty to make continuous progress tackling inequity and inequality in schools. He said the challenge is to invest diverse interests in common goals.
"We need to help all constituencies see the 'big picture' and envision solutions to old and future problems."
During the 10 months Weseman has been interim superintendent and superintendent, he's been working with the school board to do the following:
l Emphasize formation of a talented, well-motivated staff.
l Advance a system of accountability for all instructional personnel.
l Develop a budget program that systematically delivers resources to classrooms.
l Define the district's educational system and align existing and future facilities to that model.
l Strengthen advocacy for state financial support.
Weseman said the legislative and executive branches of state government must address serious financial problems facing public schools in Kansas.
More money would make a difference in Lawrence, the state's seventh-largest district.
"A school funding formula that provides 'adequacy' is not only desired, it is critical to the future of public education," he said.
Copyright 2018 The Lawrence Journal-World. All rights reserved. This material may not be published, broadcast, rewritten or redistributed. We strive to uphold our values for every story published.