Melinda Henderson didn't come out of nowhere, although she realizes people might think so.
"I think there might be some people who think I just appeared last spring," she said. "Like, 'Where did she come from?'"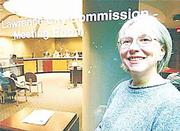 Last spring, of course, is when Henderson joined the battle over granting tax abatements to American Eagle Outfitters. She helped lead the doomed fight to prevent the abatements, and has remained a close observer of city and county government ever since attending most meetings, researching policies and speaking up when she believes officials are misguided.
As a result, Henderson has been able to achieve a rare feat: becoming a player in the city's ongoing debate over growth issues as a private citizen, without any public or private organization backing her.
"Melinda's very vocal," Mayor Jim Henry said, chuckling.
Henderson said there's nothing new to her activist ways. She has a 1990 resolution from the Los Angeles City Council, praising her for her participation in that city's Hollywood Heights Neighborhood Assn., particularly her activities in historic preservation, putting out a newsletter and coordinating emergency preparation.
"I've always been very active in whatever community I've lived in," she said.
Henderson attended Kansas University during the 1970s. After earning degrees in psychology and medical records administration, she went off to California to work for 20 years. In fall 1996, she returned.
"I basically got homesick, so I came back," she said.
But Lawrence was different from what she remembered.
"It was very obvious ... Lawrence had grown immensely," she said. "I was really shocked at it. Not that it's good or bad, but that it had grown."
Still, Henderson maintained a low profile until January 2000, when she was laid off from a software testing job. She was looking for something to do when city officials said American Eagle Outfitters was coming to town.
"I had the news on the night they had the big press conference," she said. "It was announced, 'This company is coming to town, we're excited, and we're breaking ground on this next month.'
"I thought, 'Wow, that's fast. Can they do that?'"
She decided to find out. In the process, Henderson became part of the group of people charging that AEO's planned construction would be environmentally harmful, that the proposed abatements were too high for the wages AEO employees would earn and that city officials were cutting corners to quickly attract the company.
"I just felt the regular old citizens' voice was being ignored at every turn," she said.
Henderson has made herself hard to ignore by being well-informed on the issues.
When she first started researching, she said, "I didn't know anything about zoning. I didn't know anything about tax abatements. I didn't know anything about anything."
She paused, "But I do now."
"The devil's in the details," said Larry Kipp, president of Friends of Douglas County and, like Henderson, a "smart growth" proponent. "What she brings to the process is a curiosity about details. It's just in her nature."
Henry added, "I'm appreciative of the fact that Melinda is doing something many citizens need to do acquainting themselves with all of the facts behind the topics that she's interested in."
Henderson noted that Henry's tax abatement task force and the Chamber of Commerce's ECO2 group are bringing both sides together.
"I think we're on the verge of some great opportunities," she said. "I think a lot of people are talking to each other who didn't know each other before, except to know the name."
But she said she would like to see more citizens take an active interest in local government.
"Really, what I want is for the community to understand the future of Lawrence and Douglas County is in their hands," she said. "The elected officials represent the entire community, not just the special interests."
Copyright 2018 The Lawrence Journal-World. All rights reserved. This material may not be published, broadcast, rewritten or redistributed. We strive to uphold our values for every story published.