A good hammer and Faith Hill's latest Grammy-winning CD, "Breathe," have a lot in common.
The hammer can pound a hundred nails and show no signs of wear. Play "Breathe" a hundred times, and it'll sound just as good as it did the first time.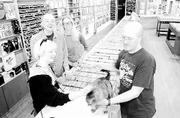 Used or new, CDs are just as good.
There aren't a lot of used-hammer stores in Lawrence, but at least five stores not counting the pawn shops sell used CDs. The granddaddy of them all, of course, is Love Garden Sounds, 936 1/2 Mass. It's been here 11 years.
"The music scene here is so diverse that's been our saving grace," said part-owner Kory Willis. "For every genre you can think of, there are people in Lawrence who are really, really into it; whether it's rock, bluegrass, rockabilly, jazz, electronic whatever.
"And then there are people who like what they hear on the radio."
As a general rule, Lawrence's used CD stores pay around $4 for used CDs and sell them for somewhere between $7 and $9. Actual prices are governed by supply and demand.
"We buy almost everything that comes in," said Mark Roseberry, who manages the Kief's Downtown Music store, 823 Mass. "If it's our 14th copy of Boys II Men, I may only give you 25 cents because it's going in our 99-cent rack. But if it's the brand-new Radiohead, I may go $5."
Without exception, used CDs have to be in good shape absolutely no scratches.
People sell CDs for a lot of different reasons.
"It's usually because they're tired of it or they need money," Roseberry said.
"We had somebody come in a couple weeks ago who was trying to pay his gas bill. And to be honest, a lot of times it's just to get some beer money for the weekend."
Roseberry said about half of Kief's Downtown Music sales involve used CDs.
"That surprised me at first," Roseberry said, "but I think it shows that people want whatever it is they're looking for. And in Lawrence those wants are so diverse at the end of the day, I can look at the sales tickets and there'll be Merle Haggard, Bob Marley and Sun Ra. It's amazing."
Roseberry and Willis each said they aren't the least bit alarmed by the recent closings of Alley Cat Records and Vibes Music, both of which sold used CDs.
"I don't know," Willis said. "We're doing fine, business is good. I saw in the paper where Vibes thought it didn't do well because it was part of a chain. But Borders seems to be doing all right."
Roseberry said: "I miss Alley Cat because it was part of the local 'color,' but Vibes didn't surprise me."
Napster not that nasty
In contrast to the recording industry, Roseberry said he's not bothered by the Napster phenomena of swapping songs over the Internet.
"It's hard to know, but we've seen very little effect, if any," Roseberry said. "People still want to be able to hold the CD in their hands and look at it before they buy it."
Roseberry said Napster may have even helped sales by exposing customers to music they wouldn't have heard otherwise.
"You never know," he said.
However, Willis is no fan of Napster. "First of all, everyone knows it's illegal," he said. "The fact that Napster made it all the way to the (U.S.) Supreme Court is ridiculous. This is copyrighted material you can't take it for free."
Also, downloading songs is time-consuming, he said, and, worst of all, doesn't benefit the artist.
Seventh Heaven, 1000 Mass., is getting out of the used CD business. It's down to its last 50 or so used CDs.
In the past, Seventh Heaven only took in used CDs on trade. But as more and more sellers realized that other stores were paying cash, the trade-in numbers dwindled to a point not worth maintaining, the store's managers said.
Threads 'N Tunes, 1410 Kasold Drive, opened in August.
"We have 600-plus CDs," said store manager Kimberly David. "We've had real good luck with people bringing in good, popular music, and my husband is real good at searching out Beatles, Rolling Stones and Bob Dylan CDs that tend to be kind of hard to find."
Most of the store's customers women, usually come in to look at the racks of used clothing, David said. The men, she said, soon find themselves sorting through the CDs.
"Business is good," she said.
Hastings Books, Music & Video, 1900 W. 23rd St., has the widest selection of big-name music on used CDs. It's loaded with Garth Brooks, The Wallflowers, Mariah Carey and Pearl Jam.
"We really feed off what people bring us," said store manager Tom Luxem.
Besides buying from local folks, the store's selection is bolstered by shipments from its corporate offices.
"Our system is built on popularity we have a lot of whatever's popular," Luxem said. "But just because something's popular doesn't necessarily mean it's better. Somebody can come in and find an obscure Louis Armstrong CD for $3.99 and leave just as happy as somebody who bought The Wallflowers' first CD for $8. I like to think we have both."
Copyright 2018 The Lawrence Journal-World. All rights reserved. This material may not be published, broadcast, rewritten or redistributed. We strive to uphold our values for every story published.