A new downtown supper club is serving up more than gourmet pizzas, pastas and thick steaks in downtown Lawrence.
"Basically it's a supper-club atmosphere where we focus on the entertainment aspect; the food part is an additive," said Shawn McClenny, a co-owner of Raoul's Velvet Room, which opened a few months ago at 815 N.H. "It's reminiscent of the Roaring '20s atmosphere, where you get some martinis and enjoy some music."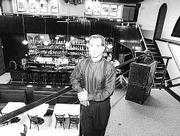 The club is the second for McClenny's four-person partnership. The first Raoul's billed as a "classic cocktail lounge with a decadent attitude" opened in January 1999 at 119th Street and Metcalf Avenue in Overland Park.
The Lawrence location covers 5,500 square feet on two levels inside the former home of Dos Hombres, a Mexican restaurant that closed in February 2000. The partners signed a three-year lease for the space, with options for a nine-year extension.
To live up to its name, the place features a collection of black velvet wall curtains and a velvet booth upstairs to go along with black-painted woodwork. The club, which seats 110 people, also has a stage atop a landing between the two floors for live bands and dee jays.
With about 35 employees, Raoul's is open from 4:44 p.m. to 2 a.m. seven days a week. The kitchen serves meals until 10 p.m., and appetizers until midnight.
Entrees range from $7 pizzas to a $24 steak-and-shrimp combo. Filling out the menu are seafood and pasta dishes.
But the real feature, McClenny said, is the martini lineup.
Twenty recipes are featured. Cosmopolitans and chocolate martinis are among the most popular, he said, while traditional mixes of gin, vermouth and olives rival "special-order" concoctions for business.
"You can take any liquor, chill it and pour it over ice in a martini glass and you've got a martini," McClenny said.
The made-to-order martinis are part of the club's push to be an operation that is "upscale, but not intimidating," McClenny said. A typical martini goes for $5.75, which can be too expensive for some college students.
The "drink-and-drown at-mosphere of the '80s" is giving way to a more responsible approach to alcohol consumption, McClenny said, which plays into the club's business plan.
"These days people are drinking cocktails, but they're being more responsible about it," he said. "Instead of spending $50 or $100 for shots for the entire table, they're spending that money on finer liquors."
Copyright 2018 The Lawrence Journal-World. All rights reserved. This material may not be published, broadcast, rewritten or redistributed. We strive to uphold our values for every story published.