One person's trade-in is another person's treasure.
And in Lawrence, treasure chests of used clothing have become sparkling successes.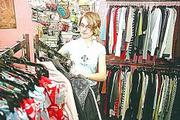 Arizona Trading Company, Sugartown Traders, Thread 'N Tunes and other Lawrence used-clothing stores are in the business of buying, trading and selling clothing, a pursuit that's only getting more lucrative.
"It's a highly successful business," said Tamyra Heim, co-owner of Sugartown Traders. "I think we surprised ourselves at how quickly the business grew."
It's a concept that's simply smart and one that's here to stay in Lawrence, according to Jennifer McKnight, Arizona Trading Company owner.
"It's such a fun way to shop," McKnight said. "There's no commitment, and everything's so cheap. If you get sick of it, you just trade it back in."
Heim said buying, selling and trading clothing is a hot phenomena that's far from cooling down.
"People are always interested in recycling things no matter what it is," Heim said. "I can't imagine it ever not being a popular idea. I don't see it ever going away. It's too smart of an idea."
'An instantaneous hit'
Perhaps the smart ones are local used-clothing store owners who have cashed in on the idea of selling used clothing.
McKnight opened Arizona Trading Company, 734 Mass., Lawrence's first used-clothing store, in December 1991 because of her desire to sell her own clothing.
"There was absolutely nothing like it in Lawrence or in Kansas City," McKnight said. "The first day it opened, there was a line outside the door. It was amazing. It was an instantaneous hit."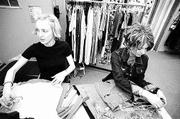 Since then, business has only gotten better, McKnight said.
Lawrence's newest used-clothing store, Threads 'N Tunes at 1410 Kasold Drive, sells music and clothing. Manager Kimberly David said business has taken off since its opening in August despite the competition.
The secret to success in used clothing is often the fun shopping environment and an insistence on buying and selling only top-quality clothing, owners and managers said.
Heim, who opened Sugartown Traders nearly three years ago, agreed that their clothes may be used, but the garments are still in tip-top condition. Sugartown is at 918 Mass.
"We have a lot of guidelines but we still manage to get a lot of good stuff," Heim said. "We're picky but that's what our customers like."
Sifting out good, bad, odd
Sometimes used-clothing stores have to be picky, owners said, because of the odd items people attempt to sell.
Arizona Trading Company buys only about 10 percent of the clothes people bring in, McKnight said. Some of the stranger items they've turned away include electronic equipment, hair curlers, bed sheets and used underwear.
"A lot of people don't understand what other people want to buy second-hand so we gently explain to them, 'People don't want to buy used underwear,'" McKnight said.
People bring in items that are strange in a bad way, but they also may be strange in a good way, Heim said. Used-clothing stores often get fun vintage items like an outrageous hat or a suit from the 1930s.
"We see great stuff like that," Heim said. "It's kind of like going through your grandma's hope chest or your attic."
David said buying used clothing also can be like going through your favorite retail store, only clothes are sold at a portion of the price.
Threads 'N Tunes sells second-hand Abercrombie and Fitch, J. Crew, Banana Republic and other brands, minus the high price tags.
Used clothing inventory can range from vintage to business suits to prom gowns. The most popular used-clothing items, however, are jeans, owners said, though the springtime favorites include T-shirts and lots of Hawaiian shirts.
Used-clothing stores choose what items they will buy based on size, brand, popularity, trends and color, though the biggest factor remains quality.
Payment varies on quality and demand for the item. At Sugartown, customers will earn 40 percent of what the store would sell the item in cash or 60 percent of the item's second-hand worth in store credit.
Customers can usually buy second-hand clothes for about one-fourth of what they would buy the item at retail.
Used-clothing store owners said Lawrence has been an especially lucrative market for their stores. Lawrence customers have been open to the idea of buying used clothing even before vintage clothes were "in."
Customers, they said, run the gamut high school students and older residents, men and women, conservatives and liberals, college students and families but all of them are looking to buy fun and cheap clothing.
"I don't think there could be a more perfect community for a store like that," Heim said. "We have a successful business 12 months a year."
Copyright 2018 The Lawrence Journal-World. All rights reserved. This material may not be published, broadcast, rewritten or redistributed. We strive to uphold our values for every story published.