After an investment of five years and millions of dollars, the Lawrence public school district finally reached a technological milestone.
In January, the district achieved its goal of placing an Internet-wired computer on the desks of all classroom teachers. Time and money devoted to bringing the information superhighway to the fingertips of Lawrence's front-line educators was a wise expenditure of district resources, said Austin Turney, board president.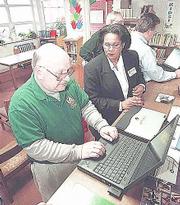 "Our students will use computer technology, personally, all of their lives," he said. "Many of them will use it constantly in their work. They need to be adept at using it and to have access to the information resources it makes available."
Turney said the district must remain engaged on the technology front because educational applications of computers would continue to leapfrog.
The district made a push this year to complete the teacher-computer project by injecting an extra $500,000 into the district's technology budget. That raised technology expenditures for 2000-2001 to $1.3 million.
Meanwhile, the school board recently committed the district to a long-term contract with Sunflower Datavision of Lawrence to connect each of the district's school buildings to a fiber-optic network, which should expand potential uses of 1,800 computer work stations in classrooms. The fiber-optic system should be operational at all schools by fall 2001.
"It gives us a high-speed, high-bandwidth connection between all the buildings," said Mike Eltschinger, the district's director of instructional computing. "The goal will be to use the bandwidth ... for teleconferencing, distance learning and other means of sending information across the district."
Eltschinger said the district could have moved faster on the acquisition of computers for teachers, but a philosophical decision in the mid-1990s led the district to focus initially on student computer use.
"Most districts give teachers computers first," he said. "We wanted to try to impact students as quick as possible."
A decision was made to first put each school's library online and then create a computer laboratory in each building. Each school received eight computers, regardless of enrollment.
Over the years, parent-teacher groups have raised substantial amounts of money to buy computers for schools. For example, the PTO at Schwegler School spent $11,500 on the purchase of 10 computers in December. Some elementary schools in the district don't have that kind of fund-raising power.
That has led to a technological imbalance, which is especially evident in elementary schools. "There's concern there's not adequate technology across the district," Eltschinger said.
A basic right
School board candidate Dale Vestal said the district owed all students regardless of economic status the opportunity to become computer literate.
"The future itself is based on computer tech," he said. "If our students are not exposed properly, they will be at a disadvantage when attending college or other professional training."
At last count, there were 2,587 computers in the district's inventory. But some are so old they can't run sophisticated software.
Eltschinger said the district's technology committee would tackle this issue. The school board also will conduct a study session in late April on technology.
"We need to identify what the needs are and develop a timetable to address the most needy situations first, but still give computers to all elementary schools," Eltschinger said.
He said the future could involve wireless computer labs. For example, the district could purchase racks on wheels that hold 16 laptop computers. These units could be shared by an entire school and moved from classroom to classroom. This kind of setup would cost $2,000 to $2,200 for each computer. That's more expensive than the $1,100 the district has been spending on its stationary computers.
Eltschinger said portable units might better serve some of the district's older school buildings East Heights School, for example that don't have space for a formal computer lab.
"A mobile lab might be an ideal situation for them," Eltschinger said.
He said the district also should expand teacher and staff training on the use of computers. In the past year, the school board approved an agreement with a company that provides teachers with a dozen online courses to help them with strategies for using computers in the classroom.
Linda Robinson, who also was a candidate for Lawrence school board, said fancy equipment should be accompanied by training.
"Investments in technology are effective only if teachers are able to utilize the technology to enhance and improve teaching and learning," she said.
Sinking computers deeper into the curriculum will be a difficult job, Eltschinger said.
"We need to get the integration into the curriculum piece put together. We need to identify how this technology is going to be used, what are the expectations for students, teachers and administrators?"
Copyright 2018 The Lawrence Journal-World. All rights reserved. This material may not be published, broadcast, rewritten or redistributed. We strive to uphold our values for every story published.