A plan to widen West Sixth Street will further spur new development in northwest Lawrence, say officials.
That's where Lawrence's boom is in full swing the population within a mile of Sixth Street and Wakarusa Drive has nearly doubled during the past decade.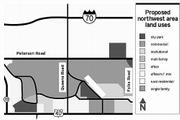 "There's no question the city of Lawrence is continuing to grow that way," said Douglas County Commission Chairman Bob Johnson. "As improvement occurs, development will naturally follow."
In August, the Kansas Department of Transportation awarded an estimated $21.3 million in system enhancement funds to improve and widen Sixth Street from the South Lawrence Trafficway to Wakarusa Drive. The city will contribute about $2.5 million toward the project, which will result in a four-lane roadway with a median.
City Engineer Terese Gorman said the city and state are working on the project's design plans and are hashing out where the access points will be along the road.
She said the quarter-mile access points may follow Congressional Drive, Queens Street, George Williams Way and the unnamed road a quarter-mile east of Queens.
The project also entails building a 10-foot-wide recreational path on the south side and a 6-foot wide sidewalk on the north side from Wakarusa Drive to the trafficway.
The bike path won't connect to the one along the SLT right away, but she said the paths will be hooked up eventually.
"We're gaining a recreational path and a roadway that will handle the traffic much more safely and efficiently than the way people are currently using it," Gorman said.
Construction in 2002
The state plans to solicit bids in July 2002, and construction would begin that fall and last two years. KDOT had approved only one of the city's and county's seven road requests.
Gorman said she's glad Sixth Street is getting some much-needed attention from the state.
"It's a roadway that has a lot of traffic and desperately needs to be improved," she said. "More development is also pressuring the area."
Development in northwest Lawrence originally was prompted by the opening of the SLT's interchange at Sixth Street in 1996 and then the opening of Lawrence's second high school, Free State, in the fall of 1997. Soon, residential and commercial development followed.
City officials then expected traffic on the two-lane stretch of road to nearly double during the next 20 years.
Within the past year, several new retail businesses have opened their doors near Sixth and Wakarusa.
There's a Texaco gas station, a bank owned by Peoples Inc., a Hallmark store and a new seafood restaurant called Marisco's on the southeast corner.
Across the street, an almost $2 million storefront houses the Hereford House as well as a Godfather's Pizza and other stores.
More to come
Developers say that once Sixth Street is widened, more development will follow.
Before the widening happens, an annexation plan of more than 960 acres will go before the county commission this year.
The proposal is to annex everything north of Sixth Street by a half mile and land outside the city limits south of Sixth Street between the trafficway and Wakarusa Drive.
The city's proposed land-use map calls for several multi-family and single-family structures as well as commercial and office space in the area.
According to Landplan Engineering, which is designing plans for the area, the land could handle five or six "office nodes" for a total of 30 or 40 professional offices; 30 acres of multi-family space, enough for up to 450 apartments, duplexes or triplexes; and about 300 single-family homes.
For commercial uses, the company projects as much as 25 acres of commercial space at the intersection of Sixth and the trafficway, featuring up to 450,000 square feet of development.
Though plans for using the land are in the works, the city does have a proposed land-use plan for where residential and commercial developments should go.
"Once the road project is completed, it's definitely going to make that development much more appealing," said Brian Dyer, a city long-range planner.
Copyright 2018 The Lawrence Journal-World. All rights reserved. This material may not be published, broadcast, rewritten or redistributed. We strive to uphold our values for every story published.