Lawrence Police Dets. John Lewis and Mike Viebrock say they'll probably never really understand why criminals do what they do.
"You're constantly amazed at the decisions people make in regard to themselves and others," Viebrock said. "Sometimes you just shake your head because it defies all common sense."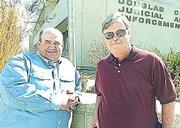 Viebrock and Lewis, both 49, are quickly approaching retirement. Lewis plans to retire in July after serving 21 years on the department, and Viebrock will retire in September with 29 years of service.
"In this job, you run across things you wish you had never seen," Lewis said.
"But there is also a lot of satisfaction in being able to solve something. Even if it's a simple misdemeanor crime, you always feel good when you solve it."
Gaining experience
Viebrock was hired by the Lawrence Police Department in June 1973. He worked as a patrolman for 18 years and was promoted to detective in October 1991.
On the streets he served warrants for two years, and from January 1990 to October 1991 he worked as a juvenile investigator, working cases involving physical and sexual abuse of children.
"We're a small enough department that we don't specialize," Viebrock said. "Each and every one of us have worked everything from homicides on down to vehicle burglaries. If I had to do it over again, I'd keep a journal about every case I worked, because you learn that in this job, truth is definitely stranger than fiction."
Lewis came to the department in September 1980 after working four years at the Parsons Police Department, and before that, as an Air Force military policeman. He was promoted to detective in 1989, and in 1993 took on additional duties as crime analyst for the department.
"I get to do everything no one else wants to do," Lewis joked. "Special projects, stats analysis, the daily bulletin and whatever else they can find for me."
Stress tests
Recently, the men spoke of old cases, why they chose the profession and the impact of spending nearly three decades in a high-stress job.
"I'm not trying to brag, but I think that being able to cope with the mental stress is what makes us (police officers) unique," Viebrock said. "We deal with people at their worst moment, and we have to react in five-eighths of a second. And sometimes our actions in that five-eighths of a second can be scrutinized for years later. Because of the stress level, this job makes you feel older than you really are."
Lewis agreed with Viebrock's assessment of the mental toll the job sometimes can take. But he said he was ready to see how relaxed he could get, adding that he had planned a small vacation in Colorado to begin his retirement.
"I'm not going to just sit down," he said. "I'll look for something to do, but I'll probably find something a little calmer."
Despite the stress, however, the detectives said they wouldn't trade their experiences in Lawrence for anything. Both lauded their department and commended the expertise of the officers they worked with daily.
"No matter where you work, there are brown spots in the grass," Viebrock said. "But I'm constantly amazed at the quality of the people who work here. I don't think the citizens of Lawrence really realize how good their police department is. I've been extremely proud to be here and serve my community."
Copyright 2018 The Lawrence Journal-World. All rights reserved. This material may not be published, broadcast, rewritten or redistributed. We strive to uphold our values for every story published.