Northwest Lawrence is proving to be an irresistible place to do business for Brad Ziegler.
He and his partners opened J.B. Stout's Sports Bar & Grille, 721 Wakarusa Drive, in 1997.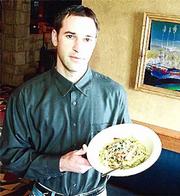 And in February of this year, their corporation R.U. Hungry opened another restaurant right across the street: Marisco's at 4821 W. Sixth St.
Marisco's serves Southwest-style fare with an emphasis on fresh seafood. The restaurant offers lunch and dinner seven days a week, plus a full bar.
The Wakarusa corridor has proven profitable for Ziegler and his fellow J.B. Stout's shareholders.
"The west side of town is growing, and we're experiencing a lot of people coming from Topeka for dining and entertainment. The traffic is great. J.B. Stout's has been a success for us," Ziegler says. "They can be here from Topeka in 20 to 30 minutes, no problem. People who used to go to Kansas City for a night out are stopping and finding they need to go no further."
Having Marisco's located near J.B. Stout's as well as the Hereford House, 4931 W. Sixth St. doesn't detract from Ziegler's newest entry in the city's restaurant market.
"Now there are three unique restaurants within walking distance of each other. And the Hereford House is a great benefit to our restaurants because of their name recognition," Ziegler says.
Now, diners have two other nearby options to choose from if the wait for a table is too long at one of the restaurants.
"It gives people a chance to bounce around," he says.
And, he says, evening visitors will find plenty of parking at Marisco's, located in the Westgate Shops center.
"We're at our max at J.B. Stout's. But here (at Marisco's) we have a lot of businesses that close at 5 p.m.," he says.
Ziegler said he thinks the new restaurant should fill a perfect niche in the retail area.
"It's a quality dining experience in a medium-price range. It's kind of in the middle of J.B. Stout's and the Hereford House."
Marisco's seats about 150 diners. Fresh seafood dishes are a signature of the restaurant, including shrimp, sea scallops, blue marlin, salmon Mako shark, catfish and trout.
And the restaurant's name Marisco's is on the same wavelength.
"It means 'small creatures of the sea,'" Ziegler says. "We were wanting to go with Southwestern cuisine and incorporate the seafood. Everyone liked the sound of it, and it's unique."
Principal partners
The 34-year-old restaurateur from El Dorado graduated from Kansas University in 1989 with a bachelor's degree in personnel administration.
He and Dan Dunbar, Lawrence's assistant district attorney, own two-thirds of the stock in both J.B. Stout's and Marisco's. The two men have worked together since they opened J.B. Stout's.
Other investors Doug Hassig, Louie Riederer, Pat Roberts and Rick Renfro own the remaining third in those two restaurants.
Hassig and Renfro live in Lawrence. Renfro also owns Johnny's Tavern, 401 N. Second St.
By himself, Ziegler also owns Set 'Em Up Jacks Bar & Grill, 1800 E. 23rd St.; Louise's Bar Downtown, 1009 Mass.; and Eighth Street Tap Room, 801 N.H.
Neither R.U. Hungry nor Ziegler himself are looking to expand their offerings in the near future.
"We've grown to the edges of the Lawrence market for the immediate future. We have no other plans for the Lawrence market right now," he says.
But investors have app-roached Ziegler about opening more J.B. Stout's restaurants.
"That's kind of the next venture for our group: possibly franchising J.B. Stout's," he said.
Labor of love
Ziegler, Dunbar and their partners have worked hard to distinguish Marisco's from its competitors.
They spent more than $500,000 on the interior finish of the restaurant, which features extensive use of brick, oak, steel, limestone and quarry tile.
"The decor has a warm, comfortable feeling. All the surroundings are very high quality, and a lot of craftsmanship went into this restaurant," Ziegler says.
Wherever possible, the partners hired local artisans to do the work, including Kelvin Schartz of Celestial Ironworks and painter Joanne Renfro.
Ziegler thinks the food at Marisco's will set the restaurant apart, too.
Randy Dickson of Lawrence is executive chef of J.B. Stout's and Marisco's. He has worked with Ziegler since 1997.
An early version of the menu at Marisco's featured entr such as Chile Rubbed Ribeye, $20.95; Chile and Lime Grilled Salmon, $14.45; and Margarita Shrimp, $17.95.
Creating his latest restaurant in town was a labor of love for Ziegler.
"The thing I like best about this business is designing the layout and concept of restaurants. It has to be creative, practical and functional," he says.
"You definitely learn from your mistakes. As soon as you get open, you realize any mistakes you've made. That's the challenge in the building the next one."
Staff writer Jim Baker can be reached
at 832-7173.
Copyright 2018 The Lawrence Journal-World. All rights reserved. This material may not be published, broadcast, rewritten or redistributed. We strive to uphold our values for every story published.