The Lawrence Police De-partment has undergone several changes lately, some more visible than others, but they all add to the efficiency and quality of the department, police said.
Sgt. Mike Pattrick points to four major updates in infrastructure and equipment that he said will allow officers and administrators to better serve the citizens of Lawrence.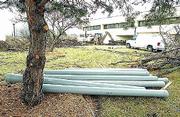 The largest im-provement is under way as workers renovate the front of the Judicial & Law Enforcement Center, 111 E. 11th St. Remodeling at the police station will cause several functions to be shuffled to other areas of the building.
The center is being renovated, in part, because the police department is moving some of its operations to 4120 W. 15th St.
In May, the department will begin moving the investigations division and juvenile investigations into the building, along with the chief's and other administrators' offices.
"It's still in the construction phases," Pattrick said. "The plumbing, wiring and flooring still have yet to be completed."
Other areas, such as training, records, evidence storage and patrol offices, will remain at the Judicial Center.
The remodeling ongoing at the Judicial Center will redesign the existing space to allow more room for the remaining divisions, he said.
"We're trying to make better use of the space, knowing what will remain here," Pattrick said, adding that bathrooms and locker rooms will be relocated, and that the entire west facade of the building will receive a face-lift.
"Nothing major, just a cosmetic enhancement," Pattrick said.
Two other additions to the department ones that will be used daily by officers on the street include new police radios and collapsible batons. The new radio system was introduced in December, and in March the last officers finished training on how to use the collapsible steel batons.
Pattrick said that with the new radio system, officers can communicate county-wide, meaning that Lawrence police can immediately know what the Douglas County Sheriff's Department or Baldwin, Eudora or Kansas University police departments are doing.
In addition, radio traffic sometimes had been filled with static, rendering messages incomprehensible, but now those problems have virtually vanished, Pattrick said.
"Now an officer knows what's happening throughout Douglas County," Pattrick said. "If there's a crime in Baldwin, we'll know it immediately and we'll have advance notice to help if it's needed."
Or if, for example, a crowd control problem arose in Lawrence, then additional officers from outlying areas would hear about it sooner, saving them response time in assisting Lawrence police.
"This way, we don't have to wait for a dispatcher to tell us what's happening," Pattrick said. "You can save valuable seconds."
On top of speedier communication, the new radios have brought better communication quality.
In some instances, officers used to encounter poor transmission quality when they were in heavily bunkered areas, such as basements or vaults, Pattrick said.
With the new radio system, no such problems have arisen.
"Where we didn't have coverage before, we find we do now," Pattrick said. "We haven't had any problems yet, no failures in communication, and that's what we want."
Copyright 2018 The Lawrence Journal-World. All rights reserved. This material may not be published, broadcast, rewritten or redistributed. We strive to uphold our values for every story published.