A growing community, a scarcity of industrial land and plenty of optimism about the nearby Kansas Speedway all have Lawrence officials looking to shift economic development efforts into high gear at Lawrence Municipal Airport.
Preliminary plans call for dividing about 16 acres at the airport into 16 lots for future light-industrial development. At least another 29 acres are envisioned for later expansion.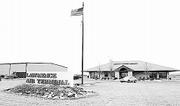 "The airport has so very much potential," said Bill Sepic, president and chief executive officer of the Lawrence Chamber of Commerce. "This airport right here is extremely important to the development of northeast Kansas. There is still unrealized potential.
"I don't know exactly what that means, but we will see more things come about because of that airport."
The airport, along the north side of U.S. Highway 24-40 north of Lawrence, has been getting plenty of attention in recent years from city officials. They see it as a place to land some new businesses in town and possibly nurture some that already are there.
One tenant already got away. Aerospace Systems & Technologies Inc. a division of AS&T; Ltd., based in Consett, England last year moved from Lawrence to Salina's municipal airfield, where services were waiting for the company and its estimated 75 jobs.
The Lawrence airport simply couldn't handle the expansion fast enough to meet the company's needs.
Now, officials are working to head off such losses and prepare for landing some new tenants in the coming years.
Last year, the federal government agreed to pump $3 million into the airport to add a parking apron and extend and strengthen a runway. The intent is to add to the airport's capacity and ability to handle larger planes.
"I think the improvements to the airport will have a significant impact on the economics and the image of Lawrence itself," said Jim Stogsdill, a pilot who is a member of the city's Airport Advisory Board and assistant director of administration at Kansas University.
Officials are shooting to get the work done in time for the first NASCAR Winston Cup race at the speedway in Wyandotte County, he said. The weekend of racing in September is expected to produce dozens of aircraft looking for places to land, take on fuel and receive service.
"We're trying to get all that additional traffic," Stogsdill said. "We want to get all the business that we can."
But the concept of dividing 16 acres south of the main terminal for light-industrial use is far from being cleared for takeoff. City officials effectively have put a clamp on plans for more development until water service and sewer capacity issues are addressed. Lawrence-Douglas County Fire & Medical officials have expressed concerns about water pressure at the airport affecting their ability to fight fires if more buildings are allowed to go in without associated improvements to the water system.
Whatever the city decides to do, Sepic is confident that investments made at the airport will pay off in the coming years.
"Kansas is being supported by and is growing in the eastern part of the state," he said. "As that growth continues, we need to work with what resources we have."
While Lawrence is close to Kansas City International Airport, having another option for landing general-aviation planes should help draw more corporate interest to town, Sepic said.
Things are looking up, he said. Now it's time to push for more resources to extend runways, expand terminals and install lines for water and sewer service all without constricting overall development.
There's been talk of relocating U.S. 24-40, or realigning Union Pacific's railroad tracks, into areas that would threaten the airport's long-term viability, Sepic said.
"When you look at this region to generate the state's growth and support the state's growth, you can't cut off the resources that we have," Sepic said.
Copyright 2018 The Lawrence Journal-World. All rights reserved. This material may not be published, broadcast, rewritten or redistributed. We strive to uphold our values for every story published.