For the record, members of the developing Delaware Street Commons cohousing community say they won't share homes, income or spouses.
What they will share is a few meals and a sense of connection with neighbors, something they say is too often missing in modern society.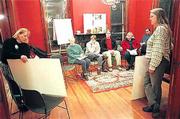 "Cohousing is a way to live in community without sacrificing privacy," said member Linda Journey, in a January interview.
The Delaware Street Commons is closer to happening.
In January, the Lawrence City Commission approved rezoning the land at 1208 Del. from single-family residence to planned residential. The commission also approved the preliminary development plan to build 33 housing units on the 3.2-acre tract.
Also that month, a new artist's rendering made the dreams of cohousing advocates a little more tangible.
"That's my house!" Tava Serpan exclaimed as she looked over a draft.
A look at the drawing helps dispel some of the myths cohousing advocates say are attached to the project.
"It gets confused with a commune," Journeys said.
But "it's more like a condominium," said member Marjorie Wholey.
The drawing depicts several homes in close proximity. They face each other, not across a street, but through a pedestrian walkway residents must use to get to their homes. Cars will go in a single parking lot on the site.
That part of the design is intended to enhance residents' sense of community.
"I can drive my car into my garage at home, and I never have to see anybody," Wholey said. "And I never do see anybody."
Striking a balance
With a walkway, she said, "we're going to see people. They'll be sitting on their porch and we'll talk together."
Journeys said the design is balanced.
"You've got space," she said. "But you're close enough to make eye contact with your neighbors."
The site also includes a "common house." An 1870 building already on the property will serve that function. The common house will be for occasional shared meals, laundry facilities and guest quarters.
Wholey and her partner, Steve Polson, started work on the project in 1999. They were spurred, she said, by a "feeling of loneliness in a crowd."
Research acquainted the couple with cohousing, which was started in Denmark in the 1960s. They decided to hold a meeting to see if others were interested. Nearly 40 people attended.
Now the project is speeding along. Six homes, costing between $50,000 and $200,000, have been pre-sold. Designs are expected to be completed in the next few months. Construction could begin as soon as September, if 23 homes are sold by then.
Cohousing advocates tout the benefits they say will result from their project.
David Roberts said he is looking forward to "having a place where you feel comfortable raising your kids, where you know everyone and where you feel safe."
Serpan said adults will benefit as well.
"Cohousing," she said, "is the longest and most expensive personal growth program you'll ever have."
Copyright 2018 The Lawrence Journal-World. All rights reserved. This material may not be published, broadcast, rewritten or redistributed. We strive to uphold our values for every story published.