The Pelathe Community Resource Center is bursting at the seams.
Activity occupies every corner of the center's building at 19th Street and Haskell Avenue: A dance group, a pantry for the needy, after-school activities and assistance to the homeless are among programs available.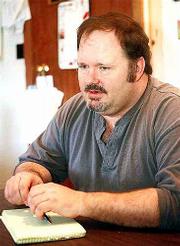 "There's something going on here every single minute of the day," said Dave Cade, director of the center.
So much is happening that the center's leaders are spending this year working on a strategic plan and making a critical decision continue to grow, or stay at the current size.
"If our facility was twice the size it is, we could fill it with programming," said Anita Arkeketa, president of Pelathe's board of directors. "Where we originally began and where we are now, I don't know if anybody could've known we would be this big."
It's a far cry from the dark days of 1996, when the then-Lawrence Indian Center's director, Chet Learned, was arrested for embezzling from the organization.
Some feared for the center's future.
"Right now, we're really dealing with growth problems," Arkeketa said. "Those problems are a lot more fun to deal with."
The center started life in 1971, an outgrowth of 1960s' minority activism, by offering job training and child welfare programs to the city's American Indians.
Over the years, the center found a home in a house on Massachusetts Street, then a bigger building on Moodie Road and, finally, in the early 1990s, in the building it occupies today.
As the buildings changed, so did the focus. Pelathe serves not only the city's American Indian community, but it also offers its services to all who need them.
"We serve well beyond the Indian community," Cade said. "The Indian community in Kansas is really small, so you need a base to serve. Our agency is right here in East Lawrence, so it helps us to serve the poor and disenfranchised community that's over here.
"We see a growing gap between rich and poor in American society ... so we fill a pretty essential role here in the community."
Cade started as a volunteer with the center in 1993. He became interim director in 1996, after Learned's arrest, and then was permanent director.
The choice may have seemed odd to some. Cade, after all, is white.
"I'm not your average white guy, though," Cade said. His two children are members of the Picuris Pueblo tribe, and Cade lived with his then-wife for four years on a reservation in New Mexico in the late 1980s.
"People that didn't know me made some assumptions," he said of his arrival. "But pretty much everybody I've gotten to know is supportive of the work we've done here."
Today, the center serves about 3,500 people of all races, and gets support from many more, Cade said.
"There are probably thousands of people in the community who've helped paint walls, participate in food drives, participate in our arts classes," he said.
After spending much of the last five years rebuilding from the embezzlement scandal, Cade and Pelathe are looking to the future.
"Dave walked in at the end of that," Arkeketa said. "Where the center was when he came on, and where it is today, I totally take my hat off to him."
Cade said he hopes the center can continue to offer help and hope.
"I want to see some of those young people here now, in after-school programs and internships, to come back in a few years and run the place, to be successful and do important things," Cade said. "I'm grateful we're able to meet some needs, but it's depressing to see 15 to 20 elderly people come in here every day for food assistance. We need to take better care of our elders."
Copyright 2018 The Lawrence Journal-World. All rights reserved. This material may not be published, broadcast, rewritten or redistributed. We strive to uphold our values for every story published.