It's hard to travel far in Lawrence without bumping into the presence of the city's Parks and Recreation Department.
For one thing, there's the parks: The department oversees 3,209 acres of developed and undeveloped park land. That includes 994 acres of Riverfront Park and the 1,515 acres leased from the U.S. Army Corps of Engineers encompassing Eagle Bend Golf Course and the new off-leash dog park.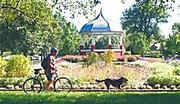 "That's just park areas," said Fred DeVictor, parks director. "That doesn't tell the whole story of what we maintain."
DeVictor's department also oversees the city's recreation centers, where Lawrence residents can go to play basketball, lift weights or walk on a treadmill.
The department is also in charge of bike trails that have sprung up around the city in recent years, the downtown swimming pool, the new indoor aquatic center and a nature center in East Lawrence.
Offering diverse services
And don't forget about the department's lesser-known functions: maintaining lawns on city property including cemeteries and killing off noxious weeds.
"Those are programs that offer diverse services to citizens," DeVictor said.
There's a reason for that, he said. The people of Lawrence want their parks and recreation services.
"There's a lot of demand," City Manager Mike Wildgen said. "In this town, a lot of people are active. They like to get out, they love the trail system, they love the river system, and they expect a lot."
For more than 30 years, it has been DeVictor's job to help meet those expectations. He came to Lawrence in 1970, when the department had about 10 full-time employees.
"Now, with the new aquatic center, it's probably 70 to 75 full-time people," he said.
Long history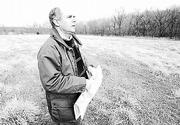 For much of those 30 years, the department was straining against the limits of its budget.
"We stretched the money as far as we could," DeVictor said. "But we got to the point there were so many demands, we just couldn't meet them."
That changed in 1994, when city voters approved a half-cent sales tax devoted to parks. Now DeVictor has a $2 million annual budget to meet demands.
The proceeds from that tax have helped the department enhance its parks and programs as well as get out ahead of the city's growth.
"Part of the success of the sales tax is that we designate a portion of money each year to go to the acquisition of land," DeVictor said.
In the year 2000 alone, the city acquired 180 acres of land for future park development, trying to place parks in future neighborhoods before development raises the price of land in those areas.
"It's cheaper," said Tom Bracciano, a member of the city's Parks and Recreation Advisory Board. "It's real expensive to go out and buy a bunch of lots someone wants to build on.
"The other thing it allows you to do is allow you to plan your neighborhoods around the park instead of trying to cram it into the last few lots available."
DeVictor said, "Some of that land won't be developed for 25 years. But at least we'll have it."
Officials say that kind of planning makes DeVictor invaluable to the city.
"What he brings is an ability to look into the future and take action to bring green space to the city's future growth," Mayor Jim Henry said.
It goes beyond mere demand, Henry said.
"We wouldn't want to pave over the entire city," he said. "Any city that's worth its salt has many places for people to go outdoors and commune with nature."
Doing that, DeVictor said, has been the work of the entire community.
"I think what we've done is we've developed good programs and we've had citizen support for those programs," he said.
"We've developed good parks in a quality way, I think, better than other cities do."
Copyright 2018 The Lawrence Journal-World. All rights reserved. This material may not be published, broadcast, rewritten or redistributed. We strive to uphold our values for every story published.