Ottawa — Lou Atherton's been wooing, cajoling and coaxing companies into town for a decade now, but only recently welcomed a new wrinkle into his economic-development pitch: luck.
"American Eagle found us," said Atherton, president and chief executive officer of the Ottawa Area Chamber of Commerce, in February. "We had no idea they were in town, looking at the (old Our Own Hardware) building."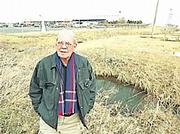 Atherton's fortunate turn of events means that American Eagle Outfitters Inc. will open a $31.5 million warehouse and distribution center in Ottawa, which is fast becoming a hub for shipping operations.
Drawn by plenty of undeveloped land, vacant buildings and the ability to secure tax breaks and other incentives, companies are setting their sights on the Franklin County community just off Interstate 35.
Wal-Mart opened its Ottawa center in 1995, and today it has 1,250 employees and 35 acres under its roof.
Kennel-Aire LLC, which makes pet kennels, bought a vacant building and 22 acres in February to handle the company's distribution needs.
The center is expected to open this spring and have 30 employees within a year.
And American Eagle which last year had plans for a new $45 million center in Lawrence's East Hills Business Park plans to open its center this summer and have 300 employees in Ottawa within three years.
American Eagle abandoned Lawrence after months of preliminary work, instead turning to a town where an existing building offered a faster and cheaper alternative.
"There's no question that the DC (distribution center) for Wal-Mart brought more attention here," Atherton said. "It's kind of like McDonald's. Everybody sees where they're going and follows. Wal-Mart is a leader."
Ottawa's concentration of distribution centers is drawing attention in Lawrence, where just five years ago a consultant was telling development officials that such operations would be a good fit, given its labor force and other factors.
The Lawrence area needs help marketing to such companies, likely through construction of a "speculative" structure with at least 80,000 square feet of space, said Bob Johnson, chairman of the Douglas County Commission and longtime member of Douglas County Development Inc., recently.
Such a building kicked off development of the East Hills Business Park, which went on to attract some of Lawrence's biggest employers.
"They identify an opportunity to expand and they want to do it immediately," Johnson said. "More often than not, they find a building that suits their needs and they move in."
A Lawrence Chamber of Commerce committee is looking for land that would be appropriate for industrial development. The search is part of a larger effort to find industries that would work well in Lawrence.
"We're going to have to address both the land and the building questions in the very near future if we're going to be a player," said Debi Moore, the chamber's senior vice president for economic development, in a recent interview.
Back in Ottawa, Steve Harris, director of human resources for the Wal-Mart center, said he was looking forward to American Eagle and Kennel-Aire coming to town. He's confident that Wal-Mart will be able to hold its own in the labor pool.
The center's associates start at $10.90 an hour, and move up to $13.40 in two years.
Copyright 2018 The Lawrence Journal-World. All rights reserved. This material may not be published, broadcast, rewritten or redistributed. We strive to uphold our values for every story published.