It's not often that people serving on the Lawrence school board, and folks trying to throw them out of office, agree on anything.
But this wildly divergent group generally agrees the district's stellar achievement in the past year was tabbing veteran Lawrence educator Randy Weseman as superintendent of the 10,300-student public school district.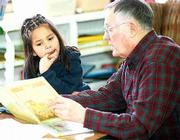 The board turned to Weseman, who went from government teacher to chief executive during his 25-year career in Lawrence, when Kathleen Williams quit after only two years as superintendent.
Board President Austin Turney said Weseman was the right person at the right time.
"We've found he was a much better choice than we thought," he said.
Dale Vestal, who ran this year for a seat on the board, added: "The district's greatest accomplishment was recognizing the fact that a qualified superintendent, Randy Weseman, was right here, and giving him the opportunity."
Weseman, who has a sense of where skeletons lurk in district closets, has banked on that affection as he plotted a course for what could be an interesting year.
He started his tenure by tackling one of the district's long-standing weaknesses. In the past, the school board and the district staff have been guilty of sometimes starting projects or programs and not adequately following through. Task force reports routinely collected dust. Newfangled academic programs were implemented without adoption of a method to assess whether they worked.
Weseman said the district also had to set reasonable expectations. One of Weseman's favorite themes: "We can't do it all."
He said the district would continue to spin its wheels without establishing clear priorities, setting reasonable timetables for accomplishing tasks and fashioning a system of evaluating success or failure.
"We allow ourselves to get caught up in the rat race," he said. "We've got to put some sanity back into this."
Seeing the big picture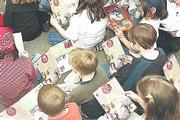 During his 10 months at the helm, Weseman has made an effort to convince board members, teachers, parents and students that they need to take a broader view of local public education.
He said the trick is to convince diverse interests to invest in common goals.
"I want to help all constituencies see the 'big picture' and envision solutions to old and future problems," he said.
In part, he's attempted to infuse cohesion into the community by sitting down with folks and talking informally about education issues. He's hosted parent and staff informational meetings, invited business people for a breakfast coffee or sandwich at lunch and met with school staff about budget issues and other topics.
Beyond talk, Weseman plunged into the meat of the district's murky budget with an eye to slaying a few sacred cows. A new budget committee is assigned the task of evaluating new spending proposals and reviewing existing programs. The school board has ultimate authority, but the screening process adds a new layer of skepticism to the decision-making process.
"It's really time to sit down and not play games, not play favorites, and weed through programs that have too big a price tag for how much they benefit students," said Holli Joyce, a parent volunteer at Pinckney School.
Trimming the budget
Weseman received board approval for a plan that would reduce the district's administrative staff and trim more than $400,000 from the annual budget. The district also moved to reduce class sizes in the first grade by hiring more teachers, complete installation of an Internet-wired computer on all teachers' desks, start a teacher mentoring program and open a new elementary school.
Staff have studied, but not yet resolved, questions about junior high scheduling, full-day kindergarten and weaknesses at East Heights School.
Rewriting the book
Meanwhile, the school board completely rewrote its policy manual. It's not fully appreciated by the public how difficult it was to craft the new book, but the result will influence every student in the district for decades.
Weseman said the board would need the kind of commitment it showed in the policy-manual debate to deal with its most challenging project this year a comprehensive facilities study.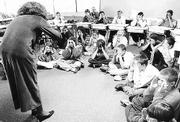 "We have an obligation to define the educational programs, the system, and align our existing and future facilities to that model," Weseman said.
Weseman said this process would compel the board to work through complex issues with the community and come to decisions that might not make everyone happy. After all, they'll be talking about school consolidation and other painful options from now until November.
He said the debate would involve the possibility of closing, expanding or building schools. Many of the district's buildings are wearing out, Weseman said.
"Overuse and consistent delays in regular maintenance have taken their toll," he said. "The pressing need to add, renovate, consolidate or replace educational facilities presents a great opportunity for citizens and educators to take a broader view of what constitutes an effective, appropriate learning environment."
A new focus
He said the district and community need to focus on creating safer, more personalized school settings; support interdisciplinary and individualized instruction; ensure opportunities for learning by doing; make effective use of integrated technology; provide a greater variety of learning settings, both on- and off-site; partner with public and private institutions and businesses; and encourage lifelong learning.
"Therefore a long-range plan to accommodate new facilities and the improvement of existing facilities is critical," Weseman said.
"It's going to take courage. This is complex. The community, of course, wants a lot of things. Some of those may not come together. There is an opportunity cost at every turn."
However, Weseman added, board members must never forget their duty: "You are the educational leaders in this district."
Copyright 2018 The Lawrence Journal-World. All rights reserved. This material may not be published, broadcast, rewritten or redistributed. We strive to uphold our values for every story published.