Lawrence Public Library officials are envisioning a library system void of limitations on space, distance and time.
To realize that vision, the public library, 707 Vt., is expanding its current cramped location from downtown to locations across Lawrence and virtually everywhere via the World Wide Web.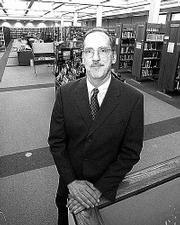 Lawrence's swelling population especially on the west side of town has necessitated expansion, said Mary Burchill, library board president.
"We were at a population size that says we're probably going to have to add a branch library," Burchill said.
"Since we didn't know exactly where to put a branch library, we thought maybe we could do something that would be a little more flexible."
The library board and director Bruce Flanders opted for a cost-efficient plan to lease and renovate small, storefront spaces for satellite libraries rather than build at a new location or expand downtown.
A first storefront library would be established somewhere in West Lawrence, Burchill said.
That site's success then would be evaluated and other storefront locations would be added when necessary.
"If you don't get the traffic you think you're going to get, you go someplace else," Burchill said.
In an attempt to reach even more residents, library officials are looking to expand services through the Internet. Their hope is to create a Web-based virtual library.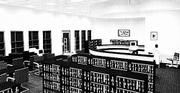 The current online library requires a dial-in account, but a Web-based library would allow more people access to services such as an e-mail reference service, electronic renewals, book requests, calendars of events and more.
Patrons eventually may be able to request a book online and have it delivered to their door.
The library would be at the fingertips of any card-carrying resident, said Sherri Turner, assistant director.
Looking at options
Because not every library patron has Internet access, officials are considering installing library kiosks, ATM-like terminals, in grocery stores, city hall and other high-traffic areas around Lawrence.
Burchill said the library expansion plans would begin to take shape in about a year.
Flanders presented the plans to the city commission in February, but progress is limited by the budget cycle.
Burchill said she's excited about the changes ahead for the Lawrence library, which she has seen through several transformations over the decades.
"The services they offer in libraries now is just amazing," Burchill said.
Copyright 2018 The Lawrence Journal-World. All rights reserved. This material may not be published, broadcast, rewritten or redistributed. We strive to uphold our values for every story published.