A company doesn't remain in business for 119 years without changing with the times.
And that's how Lawrence Paper Co. has kept running for more than a century by updating services and continually thinking of new ways to meet its customers' needs, officials said.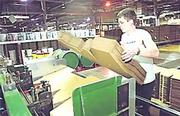 "It's so much more than just brown boxes," said Nolan Brunnworth, marketing coordinator for Lawrence Paper. "To most people, a box is a box, so you really need to have value. You have to provide other services and work on attracting business."
Founded in 1882, Lawrence Paper has gone about its work quietly and efficiently, not seeking accolades but continuing to produce about 50 million square feet of corrugated paper each month.
"It's just one of those industries that's not in the face of consumers," Brunnworth said. "It hasn't been a lack of focus, however, and we feel we'll continue to be able to offer our customers a wide variety of resources."
The company is preparing for a public relations push, which will include more community involvement, Brunnworth said. One example is a cooperative effort with Kansas University in which industrial design students will work on a corrugated paper exhibit.
The collaboration is designed to spread the word about the industry while gaining insight from student's ideas and attracting new employees.
Lawrence Paper has also donated boxes for a project called "Shadow Buddies," an Olathe organization that makes dolls for children with chronic diseases.
"These are the types of things we're looking to do," Brunnworth said. "We've been involved in the community, but we just never called it marketing before now."
Working outside the box
But like Brunnworth said, Lawrence Paper didn't stop at boxes. In the last 15 years the company has developed a plastics division in Perry, called Perry Manufacturing, and three years ago founded a branch called The Packaging Cafe, which combines the company's resources.
"(The Cafe) is kind of a one-stop shop," Brunnworth said. "It serves a well-defined niche. If you want to sell something, we can package it, store it, set up displays for it and then ship it to Wal-Mart if you want. Some companies like to split up the work because it might save money, but for most, it's best to have one company handle it all."
Justin Hill, Lawrence Paper's secretary and treasurer, said the company sees The Packaging Cafe as one of its showpieces.
"That continues to be one of our main marketing features," Hill said. "Because we're one of the larger corrugated manufacturers in the nation, we can bring resources to bear that very few other companies can. We do have strengths that aren't typically reflected elsewhere."
The early days
The plant was first proposed in 1855 by a local newspaper, but construction did not begin until 1881.
Justin DeWitt Bowersock, one of Lawrence's founding fathers, was the first president of the Lawrence Paper Co., which became the first paper mill west of the Mississippi River.
At first, the company made whiskey bottle wrappers using straw. By 1884, the plant was producing about 5 tons of paper a day, most of which was shipped to Kansas City.
Because of high railroad freight rates, the company wasn't profitable. It shut down in 1895, but reopened two years later and began making paper boxes.
Bowersock, who became a Republican congressman, turned the business over to several people, including Irving Hill, whose descendants currently run the business.
Alan Hill is president and chief executive officer, and Justin Hill is secretary and treasurer.
"We try to spend a lot of attention to detail and satisfying the customer," Justin Hill said. "As long as you do that, any business can do well."
Copyright 2018 The Lawrence Journal-World. All rights reserved. This material may not be published, broadcast, rewritten or redistributed. We strive to uphold our values for every story published.