On a recent afternoon as temperatures teased the 60-degree mark on the thermometer, Jane Fortun was where she likes to be most: in her back yard with an easel set up and a paintbrush in her hand.
She loosely brushed colors on her canvas to represent a pair of cedar trees in their Kansas habitat.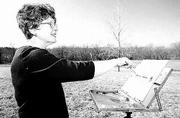 "I love nature," she says. "It feeds the soul, and it's the most peaceful thing. If I'm doing painting outdoors, I really get into it. I like the spontaneity and freshness of painting outdoors."
Fortun's love of nature and its creatures goes back to her childhood on the East Coast. She remembers staring at prints of horses that her parents had hung on the walls of their home. She remembers her uncle had a painting of ducks flying over a pond.
"I started drawing horses," she says. "When I got out of high school, I wanted to go to art school, but my father thought that was not practical."
So Fortun enrolled in the Butara School of Art in Boston, where she "learned the basics," such as life drawing and how to use watercolor and oils. After she graduated, she worked as a fashion designer in Bethlehem and Allentown, both in Pennsylvania.
Fortun's art, however, took a backseat once she married and had three children. She and her family moved to Massachusetts and then Rhode Island, where she started taking classes at the Rhode Island School of Design in Providence, R.I.
She moved to the Lawrence area about 10 years ago to be near her daughter and her family, and works in the sales department at Bud Jennings Carpet One.
"I paint as frequently as I can. I paint evenings and on my days off," she said.
Fortun continues to take classes, and frequently enters art shows, such as the Mulvane Mountain Plains Art Fair in Topeka and the Corporate Woods arts fair in Overland Park. Her work is part of the Kansas
Triennial, an exhibit touring the state for three years, and she showed her works in March at Wheatfield's Bakery and Cafe.
Fortun continues to paint her favorite subjects: horses, the landscape and still lifes. But her technique and palette have evolved over the years. She started out in watercolors and now paints mostly with oils.
"My palette has shrunk down, maybe to six or seven colors," she says. "The brushwork is looser now. I'm a realist but my method is loose and sort of impressionistic."
Fortun said she is influenced by such artists as Richard Schmid, John Fabian Carlson, John Singer Sargent and Mary Cassatt.
"I am influenced by so many things, but I don't want to copy or be like someone else," she says, explaining that her works reflect both the information she has gained from others and her own thoughts and feelings.
"I hope people get as much joy out of (my art) as I do creating it. When I was in art school, I was told I would have to paint and paint, and draw and draw (to get better). I wasn't born with a paintbrush in my hand. (Painting) just touched and called me."
Copyright 2018 The Lawrence Journal-World. All rights reserved. This material may not be published, broadcast, rewritten or redistributed. We strive to uphold our values for every story published.