Talk to a high-ranking Kansas University official and the talk will soon turn to research.
Chancellor Robert Hemenway has made improvement in KU's research funding a major plank of his administration.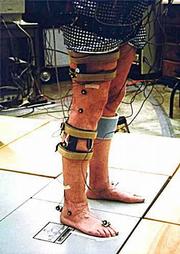 And officials from Washington to Topeka, with little prompting, are emphasizing how important it is that the state's flagship university gets its piece of the pie when it comes to research grants.
Even in good economic times, state resources are tight, they say, so any significant increase in funding for higher education is going to come in the competitive world of grants.
So how is KU doing?
For fiscal year 2000, which ended July 1, KU officials estimated the school received $190 million, which is 13 percent more than 1999. And 1999 was 14 percent above 1998. The totals include grants from federal, state, local government, industry and other sources.
The funding for 2000 brought $760 million into the state economy and created about 7,800 jobs, according to a formula developed by the U.S. Commerce Department.
A highlight of 2000 was a $4 million gift to build a world-class brain-imaging center at the KU Medical Center in Kansas City, Kan. The gift from KU alumni Forrest and Sally Hoglund was supplemented with $1.8 million in federal funds, obtained through the help of U.S. Sen. Pat Roberts, R-Kan., and $1 million appropriated by the Legislature.
Scientists at the Hoglund Center will conduct research on autism, Parkinson's disease, Alzheimer's disease and stroke. The center will be one of three in the nation that can scan the brain of a fetus.
Another highlight in research funding last year included KU professor Gunda George, who led a group of scientists to receive a five-year, $10-million federal grant that will connect Kansas scientists and researchers to work on cancer research.
Hemenway has described the results of 2000 as "simply remarkable," and wants KU to be among the top 25 public research universities. But at this point, KU has a ways to go.
According to the National Science Foundation, KU was 53rd in federal grant expenditures among public universities and 83rd among all universities.
And Sen. Roberts warned at a recent meeting that without a commitment from the state to increase funding to higher education, Kansas will lose out on the opportunity to get its share of the $20 billion in research funding that is divied up each year by Congress.
"Kansas is being knocked out of the running for federal funds we should be getting because we don't have the facilities to do the job," Roberts said. "Change in our time, both good and bad, occurs rapidly. If we do not act soon, Kansas has little hope of participating in an economy based on technological innovation."
And that would be a shame, he said, because of the economic and quality of life benefits that result from increased research.
The average high-tech job in Kansas pays $47,000 per year, as compared with the average private sector job salary of $27,000, he said.
But KU officials remain upbeat, saying they will build on the success of the past several years.
Robert Barnhill, KU's vice chancellor for research and public service and president of the KU Center for Research, said he is proud of the school's double-digit percentage growth in research funding.
He expects research funding to double in the next five to seven years, and attributes that to Hemenway's commitment and a heightened awareness by the faculty of the importance of research.
Copyright 2018 The Lawrence Journal-World. All rights reserved. This material may not be published, broadcast, rewritten or redistributed. We strive to uphold our values for every story published.