Kay Kent has been interested in the community's well being for nearly 28 years.
In June 1973, she became the state's first health officer who wasn't a physician. The state statutes were amended to allow her to became the director of the Lawrence-Douglas County Health Department.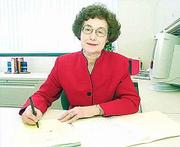 "I was young at the time and don't think I recognized the significance," she recalled.
At the time, Kent, only in her late 20s, met some difficult challenges in her new role, particularly with the community's concerns that the health department wasn't doing everything it could.
"I certainly was aware, when I took the position, there were these concerns," she said. "I shared their concerns and I did think there needed to be some changes."
Kent met the concerns head on and helped implement new programs.
She started health screening clinics and flu immunizations for the elderly and, in 1974, the national Woman, Infants and Children (WIC) supplemental nutrition program, which made Douglas County one of the state's first departments to do so. WIC provides services for pregnant women and infants from birth to age 5.
"If they left here without being offered other services, then we didn't do our job," she said. "We should not only look at why they are coming here, but they should be offered other immunization services as well."
Recent statistics show the department's immunization rate for WIC children under the age of 2 is 92 percent, compared to the statewide average of 79 percent, Kent said.
Though her job runs the gamut from immunization shots to pregnancy and parenting services, she was not expecting the latest development.
A new twist is that she must carry a pager in case of a bioterrorism attack on Lawrence or Douglas County.
The Kansas Association of Local Health Departments received a grant from the Kansas Department of Health and Environment to develop a bioterrorism plan and then purchased pagers for the health directors.
Kent said the pagers would have been useful in cases like Lawrence's anthrax scare in August when a paste-like substance was found on an envelope at Sallie Mae.
She said the department had to interview everyone who was in contact with the substance, which the FBI's Kansas City office determined was "nonhazardous."
"Thankfully it wasn't anthrax, but it's good never to assume," she said. "We do need to be prepared."
Beyond the basics
Going beyond basic preventive services is a philosophy Kent learned long ago during her nursing career.
In 1966, she received a bachelor's degree in nursing at Kansas University and worked from 1964 to 1971 in all areas of nursing from intensive care to pediatrics to psychiatric nursing.
"I really felt with nursing I wasn't dealing with the whole person in their environment," she said.
Kent went back to school and received a master's degree in public health nursing at Boston University.
She returned to Lawrence and taught public nursing classes at Kansas University Medical Center for one semester before the health department director position opened.
She said she wanted the capability to look at individuals and families in their community and environment.
"I think public health is for everyone," she said. "We protect the environment so we have a healthy environment and we promote public health. It's working to have healthy people in a healthy environment."
Kent also has earned the respect of her peers as well as state and national recognition for her work. In 1987, she received the Samuel J. Crum-bine Award, the state's top honor for outstanding service in public health, and was the first recipient of the Kansas Health Foundation's community leadership award in 1994.
Bert Rowell, chair of the health department board, said Kent is one of the best public servants he's worked with over the years.
"She has a command of the subject, and she's professional and fair," he said. "I don't always agree with things, but I do respect her opinion. I think we're very fortunate to have her."
Changes in public health
As with the county's growing population, the department has seen its fair share of growth in its programs.
In the early 1970s, the county had 85 day-care homes and centers. That number now tops 300.
Kent's department oversees day-care facilities, performs annual inspections, handles complaints and holds monthly day-care information meetings.
"I think this is important because as more people are working in the work force, children need to be in a safe environment," she said.
Each year, Kent said there are a few day-care centers that don't comply with the regulations, which results in a steep fine or a suspended or revoked license.
In addition to children, Kent is keeping close tabs on the county's fastest growing population people who are 85 years and older.
She said the department has developed Project Lively, a case management program for people 60 years and older who have multiple health-related problems.
The program helps make referrals to other elderly service providers so that people can stay in their own homes. She said 35 percent of the case load for Project Lively is 75 years and older.
"Lawrence is a nice community to retire to, so we're seeing a lot of people coming here," she said. "We need to provide services for them."
Kent said the department also is forming task forces to study risk factors that affect the entire community, including lack of exercise, poor diet and tobacco use.
She said all the factors are preventable problems and must be addressed.
"No one agency can solve these health problems," she said. "It's going to take all of us working together. It's going to take more than the health facilities. It takes the whole community."
Copyright 2018 The Lawrence Journal-World. All rights reserved. This material may not be published, broadcast, rewritten or redistributed. We strive to uphold our values for every story published.