Even a slowing U.S. economy couldn't quell hiring enthusiasm among Lawrence employers for this spring.
A slowdown, after all, doesn't mean a clampdown.
An employment powerhouse recently characterized Lawrence's hiring outlook this spring as "pleasant," despite pervasive economic woes building across the country and jobs cuts already hitting several large businesses in town.
Manpower Inc.'s latest Employment Outlook Survey found that 17 percent of surveyed Lawrence companies anticipated adding workers during April, May and June. None expected to make cuts.
Ask employment specialists, and they'll tell you that Lawrence's growing community still continues to produce jobs to fill and, to a wider extent, so does the greater Kansas City area.
"There's still a big demand out there for IT information technology and individuals with technical backgrounds," said Gail Rooney, director of University Career and Employment Services at Kansas University.
"And there's the full range of sales, management and training."
Other segments didn't fare as well in recent months, hindered by a shortage of workers, ownership shifts and even a bankruptcy case.
Labor squeeze sizzles
Several restaurants suffered under pressure brought on by too much of a good thing too many jobs.
The Kettle, Country Kitchen and a Hardee's in Lawrence all closed during the past year because, at least in part, of employment challenges. Hardee's closed last fall, because it could only attract and retain about half the staff needed to keep the 1313 W. Sixth St. location open.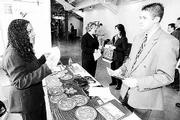 "We just didn't have enough people," assistant manager Summer Welsh said at the time. "People come and go."
So do business owners.
Dozens of Lawrence jobs hung in the balance as businesses changed hands, or prepared to do so.
Officials at Honeywell announced in February that the company would move 115 jobs from its avionics plant in Lawrence to a larger plant in Olathe.
The move was triggered by Honeywell's decision to consolidate its general-aviation product lines. Honeywell is being acquired by General Electric in a deal estimated at $45 billion.
"This is not a reduction in force," company spokesperson Bill Reavis said in announcing the Lawrence job shift. "Everybody that's in business making general-aviation products over there will have their same jobs in Olathe."
Once the shift is complete expected by the end July the Honeywell plant at 2920 Haskell Ave. will continue to make equipment for the air-transport market, which covers commercial aircraft such as Boeing 737s, 757s and similar Airbus models.
Bill Sepic, president and chief executive officer of the Lawrence Chamber of Commerce, described the shift as a "cyclical" move, one likely to rebound for Lawrence in future months.
"My understanding is Honeywell has a history of trying to make product lines more efficient," said Sepic, whose organization has commissioned a study of the Lawrence-area labor pool.
"Sometimes that works out to our benefit, and sometimes it doesn't. I would anticipate we would be the beneficiary of them making a different product line more efficient in the future."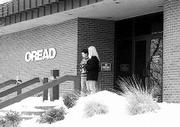 Cuts at the co-op
Structural inefficiencies sent Lawrence-based Farmers Cooperative Assn. into bankruptcy, which led to the trimming of its payroll from 140 employees during the summer to 53 in March.
The 3,700-member cooperative's bankruptcy filing led to a plan for the bulk of its assets to be acquired by Ag Processing Inc., or AGP, a regional cooperative in Omaha, Neb.
AGP officials said it was unclear what employment changes might result from the deal, which required approval from the U.S. Bankruptcy Court and AGP's board of directors.
"We have to look at the whole operation," said Mike Maranell, AGP's senior vice president of member and corporate relations.
Bankruptcy also claimed another Lawrence-grown company.
Oread Inc., a one-time contract-pharmaceutical powerhouse, announced in February that it would close under the pressure of overwhelming debts.
The announcement immediately left 75 of Oread's 150 employees in Lawrence without jobs; the remaining workers were offered weekly contracts to finish client projects.
The workers were not given severance packages, and were told to take up claims for unpaid vacation time with the U.S. Bankruptcy Court.
"The company plans to pursue an orderly transition of all projects back to clients," company officials said Feb. 12, in a statement the day it slashed jobs. "Thereafter the company will work with its counsel and lender to determine a permanent course of action."
A month later the case was pending in bankruptcy court in Topeka.
Disney moves out
At the end of February, Disney Internet Group announced it would close its telemarketing center in Lawrence within two weeks, moving nearly 60 employees out of town and slashing 115 seasonal jobs two months early.
On Stage, which handled incoming sales calls for the Disney catalog, was to close at 1601 W. 23rd St.
Fifty-eight employees classified as regular, hourly or part-time were offered transfers to Disney's other On Stage center in Overland Park. But the Lawrence center's 115 seasonal employees, who had been expecting jobs through May 1, were let go early.
Sallie Mae, meanwhile, closed its Lawrence servicing center at 2000 Bluffs Drive. But that didn't mean an end for all of its 300 employees.
Sallie Mae, which had consolidated its center to Indianapolis, sold the complex and its equipment to DST Systems of Kansas City, Mo.
DST then hired at least 150 of the former Sallie Mae employees, who simply had to turn their attention from processing student loans to handling information for mutual funds.
Sepic applauded the move, which effectively meant one company moved out one night, leaving another company to come in the next day.
"We have a business, a quality business, that is high-tech that is coming in here, is assuming a building immediately, and hiring a majority of Sallie Mae employees," he said. "And we never had the lights go dim there. This is probably one of the economic-development highlights of the last 12 months, period. This is huge."
Copyright 2018 The Lawrence Journal-World. All rights reserved. This material may not be published, broadcast, rewritten or redistributed. We strive to uphold our values for every story published.