Quietly, a new city ordinance took effect last month barring more than three unrelated people from living together in single-family zoned homes.
City officials didn't rush to begin enforcement March 1 when the ordinance was officially published. Houses that already had four or more unrelated roommates under the previous zoning law will be allowed to continue that way as long as the landlords register the properties by June 1.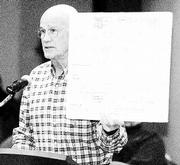 After that, officials say, enforcement will begin. They're beginning preparations now.
"We're just getting set up and seeing what reorganization, if any, we need to do on staff to see how it's going to work out," Gene Shaughnessy, the city's chief building inspector, said last month. "I'm not sure if it's going to be overwhelming or not, but I doubt it."
The Lawrence-Douglas County Planning Office is making the registration forms available at its city hall office and online.
"We've had questions and we've had e-mails," Planning Director Linda Finger said. "But I don't know that anybody's registered yet."
Based on water bills, city officials have estimated that as many as 4,000 rental homes in single-family zoned areas will need registration. Local landlords, however, think the number is much lower.
"I don't think anybody actually knows for sure," said Bob Ebey, vice president of Landlords of Lawrence, which has approximately 100 members. "Just in our group, it's only affecting three or four people."
Landlords fought the change in the zoning law, but acquiesced to the cap on three unrelated roommates as an acceptable compromise with those who wanted to limit the number to two.
Still, landlords say the city hasn't addressed enforcement issues raised by the debate about the ordinance, and they fear a broader ordinance that will require them to register all their properties not just ones with four unrelated roommates in single-family zoned areas.
Lawrence landlord James Schneider said he wasn't happy about the new ordinance, which he believes stereotype and target his colleagues and tenants. But he will comply.
"My attitude is I'm resigned to it because the community has made a decision," he said. "Like a lot of other people, I want to be a good citizen."
Copyright 2018 The Lawrence Journal-World. All rights reserved. This material may not be published, broadcast, rewritten or redistributed. We strive to uphold our values for every story published.