Lawrence Memorial Hospital is going through an era of change, making improvements and expanding services and facilities.
Many of those improvements were instituted last year and are coming online now. Among them are a new mental health unit, expanded oncology services and renovations to the hospital's fourth floor and pediatrics unit.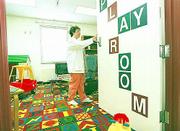 "For the past few years there's been a lot going on," said Donna Bell, a member of the LMH board of trustees and chair of the board for most of last year. "Because of the changes being made in the health care industry, we've been working really hard to keep up. I think there's some really good energy on the board."
The LMH leadership, however, isn't resting on its laurels. Last fall, trustees began holding strategic planning sessions to take a detailed look at what the future holds for the hospital.
"It's a planning process to determine where we are and how, under external pressures, we may continue to best serve the community," LMH Chief Executive Gene Meyer said.
Areas of strategic study include a look at facilities, physicians, human resources, managed care, new programs and finances.
A report on the board's findings will be prepared and released in May, Meyer said.
"I don't think there will be any big surprises," he said.
Nearly a year ago, LMH was faced with a major decision concerning the future of its mental health unit. For a variety of reasons the biggest being changes in insurance reimbursements the unit had a declining number of in-patients. That caused the unit to lose more than $300,000 in 1999.
But instead of closing the unit, trustees decided to combine it with a new geriatric-psychiatric service. By offering the combined services, hospital officials expect to offset financial losses because they can get a better reimbursement plan under Medicare. Physical improvements also were made to the unit.
The "gero-psych" service is now operational.
Other improvements:
l Renovations totaling $1 million were made to the hospital's fourth floor, where rehabilitation and skilled nursing care units are located.
l Oncology services were expanded so that patients no longer have to travel to medical facilities in the Kansas City area or Topeka to get much of their treatment.
Matt Stein, a Lawrence oncology and internal medicine specialist, was hired and he will eventually become a full-time hospital oncologist. He works with Ronald Stephens, who was hired last year to develop the expanded program.
Both Stein and Stephens are working part-time at the hospital.
l A satellite occupational health center is being developed at Lawrence Memorial Hospital South, Kasold Drive and Clinton Parkway. The center will serve businesses and employees in the southern part of the city. Physicals, drug screening and follow-up care for minor on-job injuries will be provided.
Last year, for the second year in a row, LMH received the Performance In Quality Award from the Kansas Award for Excellence Foundation. The award represents the second of three levels of recognition in the statewide program.
The award is based on a business' systematic processes and management practices. LMH was one of only three hospitals to get the award out of a total of 41 businesses.
LMH has about 1,100 em-ployees.
And to top it all off: "Our turnover rate in 2000 was the lowest in eight years," Meyer said.
Copyright 2018 The Lawrence Journal-World. All rights reserved. This material may not be published, broadcast, rewritten or redistributed. We strive to uphold our values for every story published.