Betsy, Amy and Megan Barfield don't look like outlaws.
Their days at Magnum Opus Christian School are filled with reading, writing, arithmetic, history, Latin, music and Bible studies.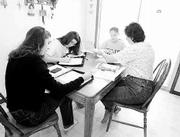 Teachers at the Lawrence home school are their parents, David and Cathy Barfield.
But, in the eyes of some, the only school these bright, articulate girls have ever known is illegal.
"The Kansas courts have consistently held that home instruction, which is home schooling, doesn't meet the compulsory school attendance requirement," said Donna Whiteman, assistant executive director for legal services at the Kansas Association of School Boards, in an October interview.
"There is very little, if no, regulation or oversight of home schools," Whiteman said.
It's a perspective the Barfields have heard many times since starting Magnum Opus in their living room in 1989.
"To say it's illegal is really a stretch," said David Barfield, chairman of Christian Home Educators Confederation of Kansas. "There is ambiguity there as to what constitutes a home school."
Confusion has simmered for years because a majority in the Kansas Legislature wants no part of clarifying state law.
Statutory gridlock is the result of forces Kansans know well: politics, money, religion, lobbying, populism. But increasing interest in home schooling among Kansas parents may one day bring to the forefront nagging legal inconsistencies regarding schools operated in home basements, kitchens and extra bedrooms.
An estimated 1.5 million children in the United States, 20,000 children in Kansas and 300 in Lawrence attend a home school.
The number of Kansas parents choosing the home over institutional schools is growing about 15 percent annually, education experts say.
More than 10,000 "nonaccredited private schools," most of them home schools, are registered with the Kansas Department of Education. That's twice the number that was signed up four years ago. Douglas County has 175 home schools on the registry.
"This whole thing, I mean no pun, is really a cottage industry in Kansas," said Rep. Ralph Tanner, a Baldwin Republican who chairs the House Education Committee.
'A better education'
The 20th century in the United States was marked by free and compulsory institutional education at the elementary level. But since the 1980s, home schooling has become a force on the educational landscape.
Development of the Internet in the 1990s vastly expanded the ability of parents to craft a curriculum that met the needs of their children.
Home schooling was originally championed by nonsectarians interested in creating an educational environment outside the red brick walls of traditional public and private schools. Members of religious communities picked up the torch and now constitute a majority of home school operations in Kansas.
Lawrence has two home schooling advocacy groups. TEACH involves about 100 families and is decidedly Christian in focus. A smaller organization, Lawrence Area Unaffiliated Group of Homeschoolers, or LAUGH, doesn't support any particular curriculum, teaching style, philosophy or religion.
Cathy Barfield, a biology teacher by training, said she convinced her husband to consider home schooling when Betsy was young. Home schooling was the only chance to customize the education of their children, she said.
Disadvantages
It was never easy and is increasingly costly, but Betsy, 17, Amy, 15, and Megan, 11, have been home-schooled all their lives.
"The one-on-one you can't beat that," Cathy Barfield said. "And, as Christians, we feel a responsibility to train and raise up kids a certain way."
Commonly reported disadvantages of home schooling socialization shortfalls, academic inequities and lack of extracurricular opportunities don't appear to be big issues with the Barfield children.
Betsy's weekly planner blocks out time to study the Bible, history, math, English, physics, music, speech, physical education and Latin.
She also studies for the standardized exam used to select National Merit Scholar semifinalists and plans to attend a Christian college in two years.
She does yearn to play competitive volleyball, but she wouldn't attend public school for the privilege.
"I like being home-schooled," she said. "I like to work independently."
Added Amy: "I think we're getting a better education. The one-on-one, in a school class, we wouldn't get that."
Legal controversy
While the appeal of home schooling is advancing in Kansas, the legal controversy about operation of these residential schools shows no signs of retreating.
Whiteman said Kansas court cases decided in 1963, 1966 and 1983 support the Kansas Association of School Boards' contention that home schools don't meet compulsory school attendance requirements. The law simply says children ages 7 to 18 years must attend school.
Whiteman said public school officials are required to report students not attending school as truant to the Kansas Department of Social and Rehabilitation Services or the district or county attorney.
It is up to officials of those agencies not public schools to investigate a child's absence, assess the validity of an alternative school and ascertain whether court action is required to compel attendance.
As a practical matter, Whiteman said, school administrators in Kansas don't follow the association's advice to report home-schooled students as truant.
"The system is there for reporting," she said.
"Children and their education is the most important and essential obligation of democratic society. We have to take children not attending school seriously."
David Barfield said he takes seriously the responsibility of teaching his children.
He also places faith in guidance from the state Department of Education, which publishes a guide to help parents interested in home schooling their children. Of the KASB, he said, "I wouldn't call them the authority."
Barfield said home schools were lumped into the category of nonaccredited private schools.
Home schools aren't specifically mentioned in state statute, he said, but state officials permit home schools to operate alongside unaccredited parochial or nonsectarian schools of all sizes.
Home schools are subject to requirements imposed on those schools, which mandate students be taught by a "competent" instructor for a period of time "substantially equivalent" to the 186-day schedule set for public schools.
The terms aren't defined in state law. In fact, nothing prevents a high-school dropout from operating a home school. And no formal academic year is set for home-schooled students. Students may attend year-round for a few hours daily or follow the local public school district's calendar.
No log must be kept of classroom activities.
Kansas statute does require official custodians of a nonaccredited school to register with the state, but David Barfield said not all do.
Registration can be accomplished in seconds by completing a one-page form on the Education Department's Web site.
The form doesn't ask anything about a school's students, teachers, curriculum or facilities. There is no renewal requirement.
David Barfield thinks all the financial, educational, political and social implications of home schooling are fascinating topics worthy of debate.
But until the state says otherwise, he said, Magnum Opus will continue to strive to meet one requirement: the educational needs of his children.
"I'm not a public school basher," he said. "This is a very heavy responsibility. It's been a very positive thing for the family."
Copyright 2018 The Lawrence Journal-World. All rights reserved. This material may not be published, broadcast, rewritten or redistributed. We strive to uphold our values for every story published.