Sisters-in-law Di and Dru Fritzel of Lawrence say they've worked hard to make their store interiors, 738 Mass. the kind of environment where customers will want to linger.
When you walk in, you'll find a variety of items, such as sofas, armoires, rustic farmhouse-style tables, benches and chests, artfully arranged as though they were in someone's home.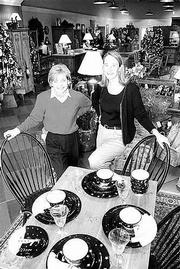 "It's pretty eclectic, but we try to keep it very warm and comfortable, a fun mix of old and new. You're going to see items from the Czech Republic, Germany, Holland and Sweden. We have a touch from abroad and things from here at home, all in one place, Di Fritzel said in an interview last November.
"A lot of our customers come in because they saw something in our windows. Our big windows do that; they make you want to come in and see what's inside."
The goal, she said, is to create an inviting atmosphere.
"We want that warm, fuzzy feeling; nothing pretentious, just comfortable," Di Fritzel said.
The Fritzels are co-owners of interiors (yes, they planned the lower-case "i"), which sells home furnishings, accessories and interior design services.
Moving on up
The business used to be located in the old post office at 645 N.H. But it relocated last fall to make way for The World Company which owns the Journal-World to move some of its news operations into the building.
"We loved how much square footage we had there. But we've really revamped this space. We feel more a part of downtown Lawrence now, being on Massachusetts Street," Dru Fritzel said.
Interiors' new location on Massachusetts Street was home to Pier One, which relocated to South Iowa Street.
The building was renovated from June to September of last year. The two-year anniversary of the business was last November.
Dru Fritzel is married to Thomas Fritzel, and Diane Fritzel is married to Andy Fritzel.
The brothers work for Lawrence-based Gene Fritzel Construction Co.
Keeping the look
When the store's co-owners moved their goods to the new space, they wanted to keep the same feel a cozy atmosphere that customers respond to.
"We tried to transfer the same look over here," Dru Fritzel says.
"We have everything from new pieces to old pieces, a big variety of furnishings from all over. We haven't changed a single thing. We just picked up and moved here."
The relocation has had its advantages.
"We're getting a lot of walk-in traffic that we would not have gotten before. I would say our walk-in customers have probably quadrupled. People want to stop in and see what's new," Dru Fritzel said.
The business has always enjoyed a large number of customers from Topeka and the Kansas City area. But the sisters-in-law never entertained moving elsewhere.
"We would have had the opportunity to pick up and move to Kansas City and do a whopping business. But we're invested in Lawrence. This is our home," Dru Fritzel said.
The store has succeeded, owners say, because they've been able to build a loyal clientele and new customers are discovering the business all the time.
Copyright 2017 The Lawrence Journal-World. All rights reserved. This material may not be published, broadcast, rewritten or redistributed. We strive to uphold our values for every story published.