People don't have much trouble finding Kelvin Schartz.
They just look for the 15-foot, 2,000-pound steel spider that towers over the parking lot in front of his business.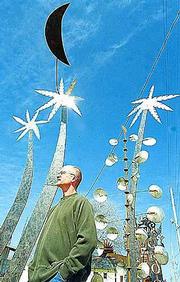 It's hard to miss as you drive by Back to the Garden Yard Art & Gallery, 619 N. Second St.
"It probably took us three to four months to make. It was quite a project. I never even thought about selling it. I just made it," Schartz says.
The 48-year-old artist, who is from Great Bend, lives in a world of whimsy occupied by dancing frogs, flying pigs and soaring butterflies all fashioned out of recycled steel.
Back to the Garden features Schartz's own indoor and outdoor metal art, as well as the work of about 30 other artists.
Schartz also operates Celestial Ironworks, the business through which he creates his metal art and sells it to individuals and retailers across the nation.
Back to the Garden and Celestial Ironworks are run out of the same building, which was a feed store before Schartz bought it a year and a half ago.
Celestial Ironworks specializes in what Schartz calls "yard art" metal ornamentation for gardens and other outdoor spaces.
The indoor art featured in the gallery is more eclectic, including items such as mirrors, clocks, tables, small sculptures and mobiles.
Schartz also does custom work for both private and business clients.
His craftsmanship can be seen, for example, throughout Marisco's, 4821 W. Sixth St., a new Southwestern-style restaurant in west Lawrence. He made ornamental booth dividers, wall hangings and the burnished, metal screen behind the bar.
Other restaurants in town have approached him about doing custom work, too, Schartz says.
Schartz came to Lawrence five years ago from Great Bend to pursue a career in art. He left behind his job as a social worker for the Kansas Department of Social Rehabilitation Services.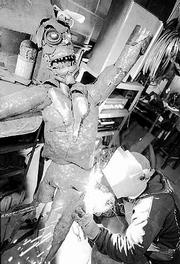 "Lawrence seemed the best place to go because of the arts community, and it's a progressive place," he says.
It was a big leap from social worker to budding artist, since Schartz has never had any formal art training.
"I've always been pretty creative. I did take an oil painting class about six years ago. I enjoyed that. But that's it," he says.
Schartz received a bachelor's degree in horticulture from Kansas State University in 1974. He started creating his metal art about six years ago in Great Bend when he made angels as Christmas gifts for his family.
"I just basically stumbled into this. It's hard to believe," he says.
People who buy Schartz's work tend to turn into collectors of it, finding piece after piece that they seemingly can't resist. His work can be found in galleries, gift shops and garden centers around the country.
"I think people like it because of the whimsical themes and the kinetic motion, the way we make things that move," Schartz says, referring to his mobiles, chimes and decorative garden stakes that sway in the wind. "There's something about this metal that people like. If you can make people smile, they'll buy."
Schartz is always on the go, working 12 hours a day, seven days a week. But he has no complaints.
"I just love it. It doesn't even seem like work. I look around here, and I can't believe it's even happening. At this point, I can't imagine doing anything else," he says.
Where does he come up with the concepts for his art?
"I wake up in the middle of the night with ideas. Like the one for a 15-foot-tall spider."
Copyright 2017 The Lawrence Journal-World. All rights reserved. This material may not be published, broadcast, rewritten or redistributed. We strive to uphold our values for every story published.