Haskell Indian Nations University is loaded with history. It's everywhere you look.
And that's the problem: It's everywhere. File cabinets, closets, stacks of boxes.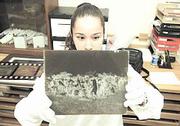 Some of it's organized, a lot of it's not.
But until there's a single repository for thousands of photographs, documents and artifacts that are Haskell's past, there's not much anyone can do.
Haskell officials have plans for just such a building, thanks to the generosity of the W.K. Kellogg Foundation, the Lilly Endowment, the Log Home Council of the National Association of Home Builders and several manufacturer associations.
Together, they're funding construction of cultural centers on as many as 30 tribal college campuses throughout the United States, including Haskell.
The proposed Haskell Cultural Center and Museum is expected to cost about $1.3 million.
The American Indian College Fund has set aside $915,000 for the project; the remaining estimated $385,000 will be the subject of an upcoming fund-raising campaign.
If all goes as planned, construction is expected to start this month.
"We're hoping to have it done by Oct. 13, which is fall homecoming as well as the 75th anniversary and rededication ceremony for the Haskell arch and stadium," said Haskell archivist Bobbi Rahder, who's overseeing much of the project.
Others on the cultural center committee are Virgil Allen, Lee Pahcoddy, Charlie Hawkins, Brower Burchill, Gil Hood and Marvin Buzzard. The project's architects are Dan Sabatini and Denton Nichols of Lawrence.
Plans call for building the cultural center and museum on a now-vacant lot on the southwest corner of Barker and Indian avenues.
The building itself will feature:
l 6,048 square feet,
l cypress-log construction,
l a visitor's center,
l climate-controlled 70 degrees, 50 percent humidity archival storage facilities in the basement,
l and display areas, classrooms and offices on the first floor.
The outside will feature a war memorial commemorating Haskell graduates killed while serving in the military, and an amphitheater with seating for about 150 people.
"We want this to be a 'living' center," Rahder said. "We don't want it to be a storage facility that no one will use. We want it to be an active place."
The project's mission statement calls for preserving and documenting the histories of Haskell, American Indian education and American Indian history.
After the building is complete, Haskell officials hope to convince the National Archives and Records Administration to transfer its Haskell records from the Central Plains Region Office in Kansas City, Mo., to the cultural center and museum.
"When you read about what Haskell students were thinking about the assimilation efforts that were going on at Haskell in the late 1800s and in the early 20th century, a lot of that comes from students' letters that are on file at the Central Plains Region Office," Rahder said. "Those records are not here; we don't go back that far."
The National Archives and Records Administration is not opposed to moving the records to Lawrence.
But for that to happen, Rahder said, Haskell must first have a storage facility that's environmentally controlled and a full-time archivist whose salary is part of the university's budget structure.
"The building will be environmentally controlled," Rahder said. "But my position is grant-funded, so we're working with the (U.S. Bureau of Indian Affairs) to see if we can get a full-time archivist in the budget."
After the cultural center and museum is up and running, Rahder said she would like to begin "scanning" back issues of The Indian Leader, the student newspaper.
"Once we had it 'digitized,' we could make it available over the Internet," she said. "We get calls all the time from Haskell alumni, asking us to look up something that was in The Indian Leader when they were in school here."
In continuous publication since 1897, The Indian Leader is the nation's oldest student-run American Indian newspaper.
Rahder said she hopes tribes that lack the proper facilities for storing their historical records will consider using the cultural center and museum.
"There's a lot to do," she said.
Copyright 2018 The Lawrence Journal-World. All rights reserved. This material may not be published, broadcast, rewritten or redistributed. We strive to uphold our values for every story published.