Hugo Vera loves teaching in the vocal music department at Kansas University.
But to make ends meet, the graduate teaching assistant has to work at the university's music library part-time. Progress on the new GTA contract doesn't make him hopeful his situation will improve.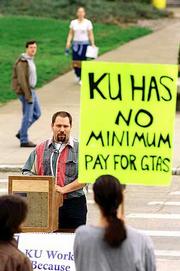 "A lot of graduate students end up leaving KU because they don't feel appreciated," he said.
Vera was one of several students who spoke at a GTA rally Thursday at Wescoe Beach on the KU campus. The group which included about 75 students was hoping to gain support from students and faculty as contract negotiations continue.
GTAs at KU unionized in 1995, then approved a three-year contract in 1997. The Graduate Teaching Assistants Coalition, which is affiliated with the Kansas Association of Public Employees, American Federation of Teachers and the AFL-CIO, submitted a new contract proposal in September.
The university made its first counter-offer last week, said GTAC member Kevin Armitage. Several members said they were frustrated it took so long for KU to reply.
Armitage said GTAC asked for a base salary of $14,000 per year for teaching assistants, and the university countered with a $7,000 offer.
"It's so shameless you'd think the university is out to destroy graduate education at the University of Kansas," he said.
Currently, salaries vary between departments, and there is no minimum. Last fall, union leaders said salaries for the 900 to 1,000 GTAs ranged from $5,000 to $10,000 per year.
Amy Cummins, GTAC president, declined to confirm the $14,000 request or $7,000 offer, saying the union and university agreed not to discuss details of the contract before an agreement was reached.
KU spokeswoman Lynn Bretz also declined to discuss the negotiations. But she refuted the idea that the university does not appreciate its graduate students, who teach between one-fourth and one-third of undergraduate courses.
"Graduate teaching assistants contribute tremendously to the university," she said.
Health benefits were another concern raised by several speakers Thursday. Vera said the benefits currently offered are too costly and don't provide enough coverage.
Christine Robinson, a teaching assistant in sociology and women's studies, said the university should offer domestic partnership benefits for same-sex couples or unmarried couples.
GTAs are better off than they were before unionizing, she said.
"They said forming a union would alienate you from your teachers," she said. "I have heard nothing from anyone but absolute support."
Copyright 2018 The Lawrence Journal-World. All rights reserved. This material may not be published, broadcast, rewritten or redistributed. We strive to uphold our values for every story published.