The Lawrence area is growing.
That almost goes without saying.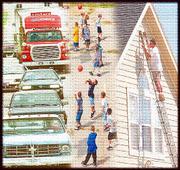 By virtually any measure whether it's population, traffic, services or shopping opportunities there's no doubt that more of it is going on in town today than there was before.
At the same time, many of those same people living with and adding to the growth are pining for a sense of belonging often reserved for small towns.
Just ask J. Stewart. He longs for homes nestled among sprawling parks and neighborhood shopping centers, all focused around a town square.
"I want a place that allows people to get out of their car, cross the street and be in a shopping district where the kids can play in the park and go to the community center to take swimming lessons," said Stewart, a Lawrence developer who owns Terravest Construction Co. "I want a place where the mothers and fathers can shop, have a Saturday morning doughnut and coffee, and the kids can be playing in the center.
"It's been my dream. I want a community."
So Stewart, during the past decade, has purchased 1,000 acres at Lawrence's northwestern edge. His plans call for as many as 2,000 new homes and apartments, a $3.5 million plant for treating water and sewage, dozens of shops, a school campus, several park areas, a retirement complex and possibly a golf course or hotel and convention center.
Stewart describes the project as a suburb of Lecompton, although many would consider it more of a twin city.
The project would double the town's size.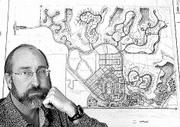 "This is a community that we plan to grow over a period of 20 years," he said. "It's been my dream, and it also will be my retirement."
Evidence of growth
Big plans, small-town dreams. It's a theme that runs deep in the greater Lawrence area, in the heart of the fastest-growing section of the state.
To see evidence of Lawrence's swelling expansion, check out the latest figures from the U.S. Census.
Lawrence weighed in with 80,098 residents in 2000, up 22.1 percent from 65,608 a decade earlier. Among the state's 15 largest cities, Lawrence was outpaced only by communities in Johnson County, the state's fastest-growing county.
During the past decade, Lawrence issued building permits for 3,719 new homes, 697 duplexes and 2,270 apartments and other multifamily units.
Such numbers are no surprise to Doug Brown, a commercial Realtor with Coldwell Banker McGrew Real Estate in Lawrence. He's lived all 42 years of his life here, most of that time as a professional trying to help Lawrence grow faster.
His stance is simple: Lawrence's quality of life is so attractive through parks, schools, cultural activities and dozens of other features that new people and businesses want to share in the benefits.
'Change is good'
The popularity puts a squeeze on commercial space, Brown said, which can drive up prices that challenge the budgets of so-called mom-and-pop stores.
He maintains that for every new commercial store that opens, another small-town tenant can take its place and, therefore, open up more space down the ladder.
"Think back to the late '80s: If Dillons wouldn't have moved from their Sixth Street location (1312 W. Sixth St.) out to Sixth and Lawrence Avenue, Anderson Rentals wouldn't have had any place to go," Brown said. "If Hobby Lobby hadn't moved into the old JC Penney, (Westlake) Ace Hardware wouldn't have had a second place in Lawrence. "When something goes away, hopefully something as good or better takes its place. Change is good. Don't be afraid of change."
But change also can disrupt a comfortable existence.
Jessica Carlyle remembers when the few neighbors she had north of Lawrence would stop by the house with a bowl of punch on a summer day.
Now, alongside the family's five-acre home site along the Farmer's Turnpike, things are changing. New homes are moving in. Traffic is increasing. Familiar habits are passing on.
"I remember, when I was a kid, you knew all your neighbors," Carlyle said. "Now you don't know everyone anymore."
Yes, times are changing fast. When Carlyle mentions the "old days," she's talking about the early '90s. She's just 15 years old.
Bedroom community
Shirley Martin-Smith has observed the community's growth from several angles. She owns her own temporary-employment business, with operations in Lawrence, Topeka and Wichita.
She's been elected to public office, including a term as Lawrence mayor in 1990-1991. And, as a Lawrence resident for 24 years, she has watched the city grow into a vibrant place to live between Topeka and the Kansas City area.
Maybe too vibrant.
"For years we've concerned ourselves with the fact that we're an ideal bedroom community, and that's what we are becoming," said Martin-Smith, who figures that about 6,000 of her "neighbors" commute to jobs outside of town.
"When you're in your car, you don't always have time to pay attention to what's going on in your town. You may not have time to volunteer, or to be active in your schools. We need to find an adequate number of jobs for them here, in the community where they live, so they can be active in their community."
Building bridges
Transportation issues in Lawrence at times take turns bringing the community together and tearing it apart.
Last year the city launched its own fixed-route public transportation system, hailed by many as a vehicle for reducing traffic on city streets and connecting elderly, low-income and disabled riders with all areas of town.
The embattled South Lawrence Trafficway, meanwhile, continues to pit competing interests against each another in search of consensus for a route leading traffic around the city's southeastern edge.
Bill Sepic, after a full year in his job as president and chief executive officer of the Lawrence Chamber of Commerce, said he was confident that the search for common ground on transportation issues could prove successful and spread into other phases of community life as well.
One chamber committee, for example, already has built bridges among a diverse set of players to address two seemingly divergent interests: the searches for suitable property in Douglas County for both development of industrial sites and preservation of open space.
As Douglas County population rolls past the 100,000 mark, Sepic is hopeful that many residents will choose to get involved in community issues, events and organizations.
Civic participation key
Increasing civic participation offers an opportunity for Lawrence residents to build upon their community's desirable past, Sepic said, and make it better for the future.
Such work becomes even more important, he said, as Lawrence grows from a town into a city.
"As much as there are people who desire what that small town used to represent, we can capture much of that within a small city provided we work together," Sepic said.
"We were desirable as a town of 40,000 people, we were desirable as a town of 60,000 people and we're still desirable as a city of 80,000 people.
"You look at us and you can't stop people from wanting to live in a place that's so desirable, but you can help guide its progress. You can help plan its growth. And that's by getting involved."
Copyright 2018 The Lawrence Journal-World. All rights reserved. This material may not be published, broadcast, rewritten or redistributed. We strive to uphold our values for every story published.