Lawrence's budding cluster of high-tech businesses is looking to bloom in the future, fertilized by a healthy dose of advice and support from those who know the industry best.
Tech-savvy executives, entrepreneurs and experts recently formed the Lawrence Technology Assn. to foster growth and success for tech-oriented businesses and industries in the Lawrence area.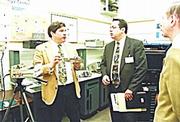 The organization had its first meeting in January with 85 people crowded into a dining room at Hereford House to hear from Rich Bendis, president and chief executive officer of Kansas Technology Enterprise Corp. in Topeka.
He told LTA members that they were on the right track, banding together to build a critical mass of technology advocates to strengthen community support, lobbying power and promising leads for others to follow.
Bendis said he was continuing to push for attracting more venture capital into the area, which would help the area become more of a power in high-tech circles. LTA's participation both in public and behind the scenes is a step ahead.
"We're going to need some help," he told LTA members.
The association grew out of discussions among representatives from several of Lawrence's high-tech players: Bob LaGarde of LaGarde Inc., Marc Epard of Netopia and Bennett Griffin of Griffin Technologies LLC. Victor Frost, director of Kansas University's Information & Telecommunication Technology Center, also serves on the board of directors.
Among the association's first concerns was an apparent lack of available office space for growing tech firms in Lawrence.
One of them a regional office of Sportvision, which started seven years ago in Lawrence as Coach's Edge late last year announced plans to relocate to the Cedar Creek area of Olathe rather than wait for new space to come online in Lawrence.
"It's unfortunate we won't be here anymore," said Jeff Jonas, a Sportvision vice president for marketing and general manager of the Lawrence operation. "Lawrence is kind of this technology oasis in Kansas. It's a university town. It's a connected community.
"The main factor is there just wasn't a place for us."
But others are working on that, too.
Phil DiVilbiss, principal for The Bristol Groupe in Mission Hills, said his Wakarusa Corporate Centre development at 18th Street and Wakarusa Drive was designed to serve the needs of growing high-tech companies.
The four-building office complex the first is expected to be finished in September is intended to have small enough spaces to allow companies to start in one building and then expand.
There's also talk of forming a "high-tech incubator" in the first building, DiVilbiss said, with shared common areas such as conference rooms or even office staff.
Among the possible lease candidates could be Rob Harrington, whose DataTeam Services Corp. is among those in Lawrence on the hunt for venture capital.
Fueled by a start-up investment of more than $500,000, the Lawrence firm created software that runs electronic-procurement systems for school districts and other organizations.
Today as the firm's software can route purchase orders for books directly from a teacher to the principal, to the superintendent and ahead to a supplier with a few clicks of a computer mouse its leaders are looking for more money to expand.
DataTeam Services needs another $3 million to $5 million, Harrington said, but sometimes it's hard getting noticed if a firm isn't on the coasts.
That's why he supports efforts of the LTA and others concerned about promoting and supporting technology in Lawrence.
"The more businesses that can be successful and raise money in our area will draw more attention from venture-capital firms from outside our area," Harrington said.
Copyright 2018 The Lawrence Journal-World. All rights reserved. This material may not be published, broadcast, rewritten or redistributed. We strive to uphold our values for every story published.