Tom King has had some adjusting to do.
The 45-year-old came to Lawrence from Santa Cruz, Calif., last year to take a job as executive chef at Prairiefire: An American Bistro, 724 Mass.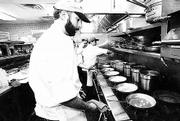 Before coming here, King owned and operated Papa's Church, a Santa Cruz restaurant serving Mediterranean-style seafood and southern Italian cuisine, from 1993 to 1999.
Papa's Church was half a block from the ocean, so the emphasis was naturally on fresh seafood.
"We served whatever came in that day: yellowtail, halibut, tuna, Pacific salmon, all kinds of things. We rarely knew exactly what they would bring to the door," King says.
But it's a whole different ball game in Kansas, and King has had to adapt accordingly.
"It is definitely a different culture here. California is all about a collision of cultures and ideas. There's always something new coming at you from all over the world," he says.
"The food culture here meat and potatoes reign pretty much supreme. It's much more conservative. But I hope our customers will follow me on some dining adventures."
Getting used to Midwestern tastes has been a challenge.
"It's a tough crowd out here. Price is a very important factor. Quantity is important. That's a hard one to rework," King says.
The leap from an oceanside Santa Cruz restaurant to a startup bistro in Kansas is one that makes sense to King.
"Lawrence is undiscovered territory I've never lived in the middle of the country. I've romanticized the Midwest a lot. I did a little research on Lawrence. I came out and was struck by the beauty of it," King says.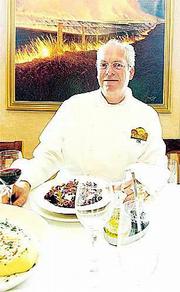 "I believe that Lawrence is ready to boom. The location of Prairiefire is superb. I can't see anything but opportunity here."
King and Steve Wilson, who owns Prairiefire, initially crossed paths on a culinary Web site. That's how King found out Wilson was looking to hire an executive chef.
King was ultimately chosen from among eight to 10 serious candidates for the job from around the nation.
Construction of the 170-seat restaurant started in June, and Prairiefire opened for business in November. King played a key role in developing the menu and wine list, as well as designing the all-new kitchen facilities.
'Soul food'
King was born in Puerto Rico and subsequently lived in Jamaica, Spain, Switzerland, Houston, New Orleans, Los Angeles and Santa Cruz.
His father worked for Weyerhaeuser, the paper products company, and the family moved often. King credits his love of food and cooking to having lived in "great food towns" over the years.
"I ate well," he says simply.
He got into the restaurant industry through what he calls a "happy accident," when he was invited to help out in a friend's restaurant about 25 years ago.
He's been in the business ever since.
King has never studied formally at a culinary institute. Instead, his training has consisted of working with many chefs, and with different styles of cooking in a variety of restaurants.
Included were stints on fishing boats in Alaska cooking halibut, several Chinese restaurants and four years as chef at Angeli Mare, a rustic Italian restaurant in Los Angeles.
Those jobs served as his cooking "graduate school," King says.
The philosophy he has developed over the years and which he plans to stick to at Prairiefire is straightforward.
"Start with the good stuff and keep it simple," he says.
He uses the freshest seasonal ingredients available and local organic produce whenever possible. That's his mantra: "fresh, seasonal and local."
He already has foragers out looking for foods that grow in the wild, and King is building relationships with area farmers, too.
He's not out to dazzle the diners at Prairiefire, but rather to satisfy them.
"It's simple, uncomplicated food, not fussy. We're staying away from the pretentious food. But it's carefully made, and all made right here. We take a lot of pride in being a from-scratch kitchen," he says.
"It's soul food. The greatest compliments we've had have been, 'This is just like my grandmother's.' We want you to enjoy this. We put a little of our soul into this, a little of our spirit."
Diners should expect to see some changes during the next few months at the restaurant, which serves both lunch and dinner and also features a full bar.
Offering Sunday brunch is in the works, King says, and the menu will soon be overhauled to reflect the change in seasons and availability of local ingredients.
Diners also can look for some new desserts, specials and soups.
"The biggest challenge has been learning the ways of the dining public here. I'm surprised at how quickly and smoothly it's coming along. And the best is yet to come," King says.
But he knows exactly the kind of experience he wants to offer Prairiefire customers.
"I would like people to leave here as though they are leaving one of their best friend's dinner parties: satisfied, stimulated, looking forward to the next time."
Copyright 2018 The Lawrence Journal-World. All rights reserved. This material may not be published, broadcast, rewritten or redistributed. We strive to uphold our values for every story published.