She's known by people, even complete strangers, as the flower girl on Massachusetts Street.
That's because Cherie Yvette opened downtown's only flower stand last year on the corner of Eighth and Massachusetts streets outside of Teller's restaurant.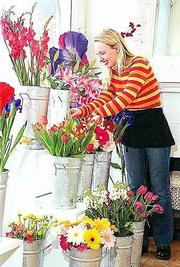 Under her large umbrella, she started with a variety of flowers, but quickly found that garden roses and gerbera daisies were popular selections.
Yvette's idea to run a flower stand originated about five years ago when she attended the Fashion Institute of Design and Merchandising in San Francisco. During her year there, she regularly visited a flower stand at Union Square.
"I used to get flowers all the time for my apartment, and I always thought it would be great to have (a stand) here in Lawrence," said Yvette, who previously attended Washburn University in Topeka.
When she returned to Kansas, Yvette decided to move to Lawrence. For a while, she designed draperies and pillows, but realized it was difficult to make a profit as a small manufacturer.
"That was my first love," she said.
Getting started
Last winter, Yvette researched what it would take to open a flower stand in Lawrence. She worked with city officials to get a vendor's permit and for no particular reason requested Eighth and Massachusetts as the location.
"It's odd now because it's been a special corner," she said. "I like Teller's and I like the space. It's worked out really well for me."
On her first day last spring, Yvette sold all of the flowers she ordered from growers via the Internet. The flowers are sent by FedEx so she receives them within 24 to 48 hours from when they are cut in the fields, she said.
"I thought, 'Wow, this is so crazy,'" she recalled. "I couldn't believe everything went so well."
But not every day ran as smoothly. Because Yvette only operated the stand on Fridays and Saturdays, she had little flexibility for the Kansas weather.
"The sunlight and the heat really made the flowers tired," she said. "It made it really hard for me to establish as a business."
When winter came, Yvette said she missed selling flowers. She thought about selling flowers online, but then decided to look for a downtown storefront.
As luck would have it, a small space was available next to Kaw Specialties Inc. at 7 E. Seventh St. Now, vivid papier-machlowers in the window point out her business Cherie Yvette Fresh Cut Flowers for Everyday.
She opened the day before Valentine's Day, and sold more than 800 roses from Ecuador and 300 ranunculus from Holland for the holiday. She used to sell about 500 stems per weekend at her stand.
Yvette said the store allows her to sell more varieties and control the temperature.
"For me, the stand wasn't permanent enough," she said. "Before I could only have garden roses for two and a half months because they couldn't handle the weather."
Best of both worlds
Now Yvette has the best of both worlds a permanent location and a seasonal stand.
The corner flower stand reopened last month and will be open from 11 a.m. to 9 p.m. Fridays and Saturdays. The store's hours are 10 a.m. to 5 p.m. Tuesday through Saturday. She also plans to sell vases as well as handmade vase slipcovers and cards.
At the store or stand, Yvette typically offers flowers not grown in Kansas. She usually has Oriental and calla lilies, gerbera daisies, orchids and gladiolus.
She sells different varieties depending on what's in season, and she buys peonies and sunflowers from local growers to sell during the spring and summer. Flowers are sold per stem or by 10-stem bunches and she offers a weekly bunch special for about $15.
Of all the flowers, Yvette said she prefers the sweet-smelling ones like the pink and white Oriental lilies.
"Fragrance is a big, key factor," she said. "The English garden roses are great because of the pretty colors and the fragrance."
Last year, Yvette said it was common for a passerby to stop and literally smell the roses.
Flower philosophy
Yvette even has a philosophy on flowers: Her hope is for people to have flowers around them at home or work.
"They make everything seem so alive and colorful," she said. "It's kind of mood-enhancing, and it brings nature indoors."
Simplicity also is key, Yvette said. Shoppers won't find any greenery or filler at her store. She said just a single stem is enough to brighten anyone's work desk or room at home.
"I'm not a traditional florist and I'm not trying to be one," she said. "I think people should just be able to pick up a bouquet of tulips or daisies and put them in a vase."
Yvette, 29, said she is grateful to her customers because every time one door closed, another door opened which has enabled her small business to succeed.
"It's not just the ideal job, it's the ideal community," she said. "I feel like this was meant to be."
Copyright 2018 The Lawrence Journal-World. All rights reserved. This material may not be published, broadcast, rewritten or redistributed. We strive to uphold our values for every story published.