Douglas County farmers are having a tough time keeping their heads above the soil.
If the weather doesn't give them a hard time, the prices they're paid for their crops will.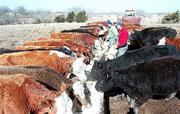 "None of the farm prices are very good," said Bill Wood, agricultural agent for Kansas State University's Research and Extension office in Douglas County. "You need a very good crop yield to make up for a poor price."
Prices aside, area farmers last year had mixed results from their crops. Last summer's dry weather and three-digit temperatures took their toll, especially on soybeans, he said.
The favorite crops in Douglas County are corn and soybeans, he said.
"The soybeans were very disappointing," Wood said. "There were some fields that didn't even get harvested. The southern part of the county was hit even harder than those north of the (Kansas) river."
Most of the soybean fields produced less than 40 bushels per acre most considerably less, Wood said. On a good year, production could be as high as 50 or 60 bushels per acre, he said.
The corn, however, surprised local farmers, Wood said.
"It turned out better than we thought," he said.
North of the river saw the best corn crops, with fields producing about 140 bushels per acre, which is considered good, Wood said. South of the river it seemed to average about 60 bushels per acre.
This winter, Douglas County saw more snow and colder temperatures than it had in several years. None of the county's main crops are in the ground this time of year so the weather won't have a negative effect. In fact, Wood thinks it could be positive for the upcoming crop season.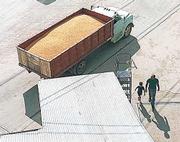 "At least our ponds are full, or most of them, anyway," he said. "The topsoil also has water. When you start the year with a full profile of water it gives you some hope. That will get you into June and July and we should have some spring rains on top of that."
The frigid temperatures should help the soil, too, Wood said. The freezing and thawing of the soil helps to loosen it up, allowing moisture to seep in and making it easier for plant roots to spread, he said.
Government prices crucial
Mike Wintermantel's family has been farming in Douglas County since the 1860s. Yet he wouldn't be farming, himself, if not for the help of government price supports.
"If it wasn't for the government, I'd be working in town somewhere," he said.
Last year's prices for soybeans averaged about $4.50 per bushel, Wintermantel said. Government price supports pushed it up to $5.14. He said the ideal price for soybeans, however, would be $7.
Wintermantel has already stopped tilling his crop land, near 413 E. 1100 Road, something that was once a common procedure for farmers. Future government money to farmers will hinge on not tilling the ground because it is environmentally sound, he said. It also saves the farmer some money.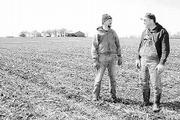 Wintermantel may be the last farmer in his family.
"My kids won't be farmers," he said. "There's not much of a future for farming in Douglas County."
Some area farmers, such as Pat Ross, practice untraditional as well as traditional approaches to farming. For 20 years Ross and his family have been involved in "truck gardening." They produce sweet corn, green tomatoes, zucchinis and other vegetables. They also grow some of traditional farm crops, such as soybeans, on their 3,500-acre farm.
Both Ross and Wood think the future of Douglas County farming may be truck gardening, so named because farmers "truck" their produce to stores or farmer's markets for sale.
The Ross family operates its own market, called Bismarck Gardens, on a farm at 1616 N. 1700 Road. People in urban areas are more willing to pay slightly higher prices for produce that is direct from the farm, Ross said.
"We're fortunate that we're in the area of the state that's a little more urban," he said.
Woods said urbanization is affecting local farming in other ways as well. More traffic on area roads makes it more difficult for farmers to move their machinery.
And developers offer farmers more money for their land than they could ever hope to make producing corn, he said.
"As older people retire their land will be scooped up by people planting houses," Wood said.
Copyright 2018 The Lawrence Journal-World. All rights reserved. This material may not be published, broadcast, rewritten or redistributed. We strive to uphold our values for every story published.