An appearance in Lawrence last month by a national expert on homelessness turned into another round of debate about the future of a proposed homeless shelter here.
Michael Stoops, director of community organizing for the National Coalition for the Homeless, praised the Salvation Army for trying to start a year-round shelter, despite opposition from residents near the proposed location at 19th Street and Haskell Avenue.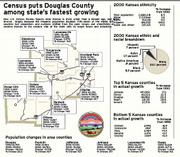 "You need to stand tall, you need to fight for the rights of the homeless, and you need to educate the neighbors," Stoops said.
But homeless advocates said they, too, want to see the Salvation Army's shelter now operational only during the winter remain near its current downtown location at 946 N.H.
"You have a building already constructed that could be utilized fully for the homeless," said a man who did not identify himself. "But the Salvation Army wants to have a church somewhere."
"Most services for homeless people are located where the homeless people are located," Stoops said.
Others criticized the Salvation Army for turning away some people who want shelter, including those who are drunk.
Lt. Carolyn Schuetz defended the organization, and said more cooperation is needed.
"You've got to chisel away at the whole problem," she said. "We have to work together as a community to build shelters and the word might be shelters."
Stoops also urged unity among homeless advocates.
"No agency is perfect, but don't beat up on the people who are trying," he said. "Offer them assistance. Or set up your own programs."
He said the idea of year-round shelter needs more support, pointing to the April 2000 death of John Lowe, a homeless man who was run over while sleeping in an alley in the 900 block of Mississippi.
"If that year-round facility had been in place, that homeless man, Mr. Lowe, might've had a place to stay," Stoops said. "We don't turn out animals from the shelter in March."
Stoops praised Lawrence for its efforts to help the homeless. He said he has made occasional visits here since the 1980s and seen a number of new services offered over time.
"Every time I come back," he said, "there's always an improvement."
Copyright 2018 The Lawrence Journal-World. All rights reserved. This material may not be published, broadcast, rewritten or redistributed. We strive to uphold our values for every story published.