Imagine the day when you can renew your vehicle tags on the weekend or in your own home while wearing a bathrobe and slippers.
The day may soon come when people won't have to go to city hall or the county courthouse to handle certain transactions.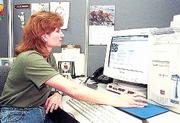 Instead of waiting in a long line, people could complete the necessary paperwork and pay fees via the Internet.
Area governments already are moving in that direction and offer some services through their Web sites.
In fact, Lenexa is considered the state's leader in e-government and has been recognized nationally at several conferences.
"About a year ago, we started to kick it up a notch and add transactions online," said Lenexa City Administrator David Watkins. "We use the Web as our means of communicating with the community."
The city's e-government site includes the capability to apply for or renew a pet license, renew business licenses and pay traffic tickets such as parking fines.
He said the city uses encrypted data to protect financial information such as credit card numbers.
"We process it all electronically," he said. "The only physical mailing that occurs is the mailing of the animal tags to you."
Watkins said the city also hopes to allow people to pay speeding tickets online, but first needs approval from the municipal court judges. By paying a speeding ticket online, he said, people waive the right to a court hearing.
Later this year, he said Lenexa will expand its online options so people can reserve a spot in a recreation class or at a parks facility and renew a swimming pool permit.
Watkins said the city's goal is to serve the public better by making government more accessible and convenient.
"In Lenexa, our daytime population is comprised of two working persons who are not available during our work hours of 8 to 5," he said. "What we're trying to do is create the 24-hour city hall."
Our own back yard
Closer to home, Lawrence and Douglas County governments offer fewer online services.
On the city's Web site, people can establish, transfer or terminate residential utility services by completing secured applications. The city provides water, sewer, trash and drainage services.
Douglas County's Web site allows people to calculate their personal property taxes for a vehicle, and for the first time pay property taxes online thanks to a state pilot program with 23 other counties.
County Administrator Craig Weinaug said the county hopes to eventually expand its services.
"To be on the cutting edge like Lenexa is, it would involve more dedication to staff than we're willing to do now," he said.
The county's information services department has 10 employees and an estimated $1.1 million budget this year.
Pam Madl, the county's administrative services director who also oversees the department, said staff has started planning for the 2002 budget and may recommend different expenditures.
She said the county is forming a technology committee that will evaluate e-government solutions.
"We want to provide services efficiently to the taxpayers without being a burden on the budget," she said.
A Kansas University class also is completing a research project on ways to improve the county's Web site.
By using more technology, Weinaug said some employees may be able to telecommute.
"With e-government, the location of the county staff and operation and the person rendering that service become irrelevant," he said. "They don't have to come to the courthouse."
Watkins predicts it's only a matter of time before local governments and the citizens they serve do nearly everything online.
"There are very few people doing this, but my prediction is that it's going to explode," he said.
Copyright 2018 The Lawrence Journal-World. All rights reserved. This material may not be published, broadcast, rewritten or redistributed. We strive to uphold our values for every story published.