Phil DiVilbiss is waiting for it.
Jim Harpool's betting on it.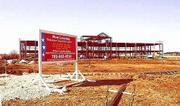 J. Stewart wants to build around it.
"It" is western Lawrence.
The growing popularity of that part of town particularly the city's northwestern edge is spawning several large developments in the area. All of them are poised to feed on a fertile inventory of new homes, vehicles and the people that occupy them.
"It's building up," said DiVilbiss, a Mission Hills developer now working in Lawrence. "Even where it is right now, it's awesome."
Developers are counting on plenty more activity popping up west of Wakarusa Drive, as Lawrence continues its westward expansion.
Several projects are in the works.
DiVilbiss, principal for The Bristol Groupe, is actively marketing his Wakarusa Corporate Centre, a professional-office complex going up at 18th Street and Wakarusa.
The project's first building at 55,000 square feet should be complete in September, and he is hopeful that he can attract high-tech companies to sign leases.
The entire project is slated to have three more buildings, each with three levels and a total of 85,000 square feet.
DiVilbiss also is leasing space in Wakarusa Crossroads, the second phase of his commercial center southwest of Sixth Street and Wakarusa.
A little more than half of the 56,000-square-foot second phase is occupied with the Hereford House, Factory Direct Appliance and other tenants.
DiVilbiss knows that leasing the remainder of his space shouldn't be a problem.
"I could probably be full if all I would have (was) an arcade, tanning salon, candy stores or video stores," he said. "We could do games, but I don't want that. We're trying to stay with the upscale stores. I want this to be upscale."
'Big box' planned
Helping feed the demand, he said, will be what's planned for the other side of Sixth Street.
Harpool, of Dial Realty KC, plans to bring "big-box" retail to his proposed Wakarusa Place development on 52 acres at the northwest corner of Sixth and Wakarusa.
Its components include:
l A 116,000-square-foot "big-box" retail building, plus an attached, 17,000-square-foot garden center.
l Two adjacent retail buildings one at 25,000 square feet and one at 15,000 square feet. A smaller, 2,000-square-foot retail building would be built northwest of the intersection of Wakarusa and Overland drives.
l Five restaurants, each measuring between 3,000 and 6,650 square feet. Three would be on Sixth and two would be along Wakarusa.
l A 6,650-square-foot bank at the corner, with four drive-through lanes.
The project still needs approval from city hall.
Suburban plan
Farther north, Stewart, of Teravest Development, has been busy during the past decade lining up 1,000 acres for development.
By 2025 he plans to have built a cohesive complex of homes, offices, shops, schools, parks even a new $3.5 million water and sewer plant.
He wants to put that all between the Farmer's Turnpike and Lecompton.
"It will be some suburb of Lecompton," Stewart said. "This is a community that we plan to grow over a period of 20 years. It's been my dream, and it also will be my retirement."
Copyright 2018 The Lawrence Journal-World. All rights reserved. This material may not be published, broadcast, rewritten or redistributed. We strive to uphold our values for every story published.