Last year the Delaware Indian Tribe gambled and lost in its efforts to win support for a gaming casino complex near Lawrence.
Now the Oklahoma tribe's leaders are rolling the dice in nearby Leavenworth County, where they think the odds are more in their favor.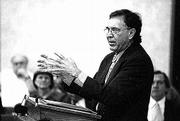 In February, Tribal Chief Dee Ketchum and other Delaware representatives visited with Leavenworth County commissioners and city leaders in Tonganoxie and Basehor. They have their eyes on land near those two towns as possible sites for a gaming complex that would include not only a casino, but also a motel or hotel, gift shop, smoke shop and possibly a museum.
"Both cities were very courteous to us," Ketchum said in a recent telephone interview from his Bartlesville, Okla., home and the city where the Delawares have their tribal headquarters. "The county commissioners were noncommittal but we had a very cordial meeting with them."
"We're looking at this strictly as an economic development issue as well," Tonganoxie Mayor John Franiuk said during a February city council meeting with Ketchum.
The exact locations of the properties in Leavenworth County haven't been disclosed.
Douglas County was the tribe's first choice for a casino complex when its efforts began last year. The tribe wanted to obtain 80 acres of land northeast of Lawrence near the Lawrence Municipal Airport.
The Delawares were met with public opposition from day one. Citizens groups such as the Concerned Citizens for a Casino Free Douglas County and Stand Up for Douglas County organized to oppose the project.
They said gambling wasn't the type of industry that was wanted or needed to spur economic development in Lawrence and Douglas County. Opponents also expressed concern that a casino would bring crime and problems associated with gambling addiction.
Ketchum thinks those concerns are overblown, and the tribe spoke to the Lawrence Chamber of Commerce and local government entities about their plans.
The complex, they said, would add 1,800 jobs to the area. Some of the casino's profits would be channeled into education programs for the tribe's 10,500 members, including 400 families in Kansas.
Under federal law, the tribe would not have to pay local, state or federal taxes.
Tribe leaders, however, promised to work out a financial agreement so some money would be paid to local entities or to fund social programs and community projects.
But in December the chamber voted to oppose the Delawares.
Ketchum, who played basketball for Kansas University in the late 1950s and early 1960s, was especially irritated because he heard about the vote from the news media instead of a chamber representative.
"This is what was very disturbing to me," Ketchum said. "We flew in attorneys and experts to make a presentation and then they didn't even have the courtesy to call us. But that's water under the bridge now."
The Delawares have withdrawn the Douglas County proposal and are hoping for better luck in Leavenworth County.
The tribe also has received calls from Edwardsville in Wyandotte County, but Ketchum said representatives have not looked at land there and are not taking steps now to pursue a site in that area.
Still, a casino complex in Leavenworth County is far from certain.
The tribe must first acquire the land for a trust and obtain permission from the U.S. Bureau of Indian Affairs for a casino complex. Ketchum believes that will happen.
He is less sure about gaining other necessary approvals from Gov. Bill Graves and the Kansas Legislature.
The state has opposed Indian casinos proposed by tribes who haven't had a Kansas presence for years. The Delawares, however, once owned more than 2 million acres in Kansas, including land in Douglas and Leavenworth counties.
"It's going to be a very long process," Ketchum said. "There is no assurance that the governor and the Legislature will sign a compact."
Copyright 2018 The Lawrence Journal-World. All rights reserved. This material may not be published, broadcast, rewritten or redistributed. We strive to uphold our values for every story published.