Ottawa — Jim and Joan Vibert used to own their own little corner of suburbia.
The parents of seven children shared a six-bedroom home in Leawood. Jim ran a construction company with stakes throughout the Kansas City region. Joan owned a growing publishing and crafts business with sales from Australia to Japan.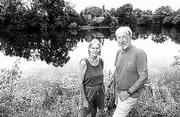 Then it all came back to earth.
"We both just got real sick of the idea of having to have employees and managing them and that whole thing," Joan Vibert said, in an interview last July. "When we moved out of Johnson County, we had no idea what a farm was. We thought we wanted to simplify our lives.
"We had no idea what we were talking about."
Now after 12 years as the proud owners and operators of Windwalker Farm the Viberts are blazing a new trail for organic, eco-friendly agriculture a few miles southwest of Ottawa.
By allowing their 17-acre field of conventional row crops to go fallow, the couple has focused on growing a 1.5-acre organic vegetable field. They truck their produce to farmers markets in Lawrence and Lee's Summit, Mo.
"It's a market that's grown 20 percent a year for the last five years," said Mary Fund of the Kansas Rural Center. "It's a niche market, and it's the one place there's some opportunities for farmers because people are willing to pay a premium for their products."
And the Viberts' operation is drawing attention for more than its rows of organic bok choi, green beans and calendula petals. Its irrigation also is attracting attention from fellow farmers in the area.
Backed by a $2,500 clean water farming grant from the Kansas Rural Center, the Viberts bought a 5-horsepower pump, 460 feet of 1-inch PVC pipe and a 350-gallon water storage tank.
The result: A vegetable operation irrigated with water from the Viberts' own 5-acre pond, a spring-fed source already isolated from chemical runoff off an adjacent field.
Organic farming catches on
The biggest potential pollutant in the couple's pond isn't fecal coliform or atrazine or any number of pesticides, herbicides or fertilizers that flow into Kansas lakes, streams and rivers.
It's the hundreds of largemouth bass swimming beneath the surface.
"It's overstocked," Jim Vibert said with a laugh. "We need about 15 Boy Scouts out here to clean things up."
The pond, protected by oak, sycamore, locust and walnut trees, received its biggest barrier two years ago. That's when the Viberts installed a berm along the edge of the pond to divert runoff.
The berm leaves only rain and natural springs to refill the water source that will quench the thirst of 150 pounds of potatoes, 1,250 roma tomato plants and other assorted vegetable varieties.
"We're feeling our way," said Joan Vibert, who figures they might be able to make $1,000 a month from their niche sales.
The revenue stream may be a mere trickle compared with the $500,000 a year her Evening Star Farm publishing business used to rake in, and well short of the profits from Tall Grass Builders' $1 million construction projects handled out of Leawood, but that's just fine.
Freedom to learn, earn
"It's not about money," Joan Vibert said. "It's about the lifestyle, and the independence, and the freedom and the air. We work twice as hard now as we did in the suburbs."
Added her husband: "But we don't consider it work."
Fund, who coordinates clean water programs at the rural center, said the Viberts were breaking new ground in Kansas irrigation.
The program's 32 other participants across the state either are ranchers or conventional farmers looking for ways to improve efficiency and address environmental concerns.
The Viberts, meanwhile, have gone further by abandoning soybeans, wheat and corn in favor of the specialty crops that have sprouted a growing market.
The Organic Trade Assn. in Massachusetts expects the 20-percent-a-year spurt in organic interest to get even steeper once the federal government establishes national standards for organic farm production, likely next year.
"There are people in the urban communities who would support, if they had the chance, a family farm that's doing the right thing," Fund said.
That's just what the Viberts are counting on.
"We're suburbanites," Joan Vibert said. "We don't have the equipment, but we do have the will. Eventually we'll make it."
Business editor Mark Fagan can be reached at 832-7188.
Copyright 2018 The Lawrence Journal-World. All rights reserved. This material may not be published, broadcast, rewritten or redistributed. We strive to uphold our values for every story published.