U.S. Census staff scoured every nook and cranny of Douglas County for inhabitants.
They even found one man living in a chicken coop.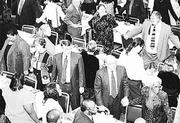 Despite intense effort, the county's headcount fell 38 people short of the 100,000 plateau. However, a total of 99,962 means the county ranked as the third-fastest-growing county in the state during the past decade.
The population grew 22.2 percent, or 18,164 people, since 1990.
Implications of this growth good and bad will be felt by city, county and school district officials for years.
Douglas County Administrator Craig Weinaug said population growth added many layers to the fabric of the county, but it also placed a strain on public services.
"Obviously, we're a growing county that for years has struggled with the benefits and negatives of growth. It's a two-edge sword," Weinaug said.
Mayor Jim Henry said Lawrence was more than twice the size it was when he moved here in 1967, when the city barely stretched as far west as Kasold Drive.
Now, at City Hall, he's happy to be dealing with the issues brought upon by growth: the needs for better traffic flow, more parks, expanded public safety and on and on.
"It results in more services, because there are more people paying taxes," Henry said. "The city's going to provide services for a larger number of people."
Census figures released in March will shape plans for future growth, said Debbie Van Saun, assistant city manager.
"It will be very helpful to compare this information to what we've been projecting for infrastructure, wastewater, traffic, roads that sort of thing," she said. "It will have different meanings for different areas of the city."
Austin Turney, Lawrence school board president, said the ebb and flow of families in the district would have an effect on school facilities.
"We'll build elementary schools where we need to depending on growth of the city," Turney said. "As the city changes shape, it makes it more difficult for us."
Instead of housing and schools concentrated around downtown like a doughnut, Turney said, the city's shape has become more of an oval. Population surges are occurring in the northwest and southeast corners of the city, which will affect school construction plans.
"That makes it really hard in terms of holding to the concept of elementary schools as neighborhood schools," he said.
In the back of each official's mind will be an analysis by Demographics Daily, an online product of American City Business Journals.
Demographics Daily forecasted last year that the Lawrence area population would hit 129,200 in 2025. The study counts all of Douglas County as the Lawrence metropolitan area.
If the prediction holds, the Lawrence area would be the fastest-growing city in the Midwest over the next 25 years faster than St. Louis, faster than greater Kansas City and faster than Minneapolis-St. Paul.
"We just need to make sure we're prepared to handle that growth," said Debi Moore of the Lawrence Chamber of Commerce.
During the 2000 Census, some officials viewed 100,000 as a benchmark population for triggering federal aid and regulations.
But falling short might not be detrimental, said Marc Wilson, a spokesman for U.S. Rep. Dennis Moore, R-Kan.
"It seems there is no magic number and that Douglas County not breaking the 100,000 level will have little effect from a federal standpoint," he said. "Generally, there are a lot more factors that go into funding decisions besides raw population."
Copyright 2018 The Lawrence Journal-World. All rights reserved. This material may not be published, broadcast, rewritten or redistributed. We strive to uphold our values for every story published.