Owners of the Community Mercantile Co-op, Lawrence's only natural food store, are packing their bags for a move to a new store, which is scheduled to open in late May.
The Merc is moving from 901 Miss. to a location twice its current size at 901 Iowa. The new space will help the Merc accommodate its overflowing business, say store representatives.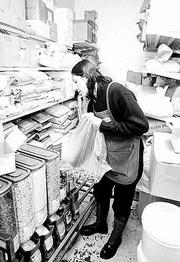 The store will replace the former Alvin's grocery store in the Hillcrest Shopping Center, leaving elbow room for the currently crammed Merc and allowing the store to offer more community services.
Though the store hadn't planned a move, Nancy O'Connor, Merc marketing director and nutrition educator, said the building opened up endless possibilities that store managers couldn't resist.
"We put the cart before the horse," O'Connor said. "But it was such an incredible opportunity, we thought we should just jump on it."
The Merc will add new services with its new space, including a fresh meat department with locally raised beef, chicken and pork.
The Merc has supported its commitment to the city by inviting other local businesses to open up in the new building, said Jeanie Wells, Merc general manager.
Liberty Hall Video Store will have a satellite location in the new Merc as will Free State Credit Union. The new Merc also will house flowers from a local florist, adding to the new one-stop-shop aspect of the Merc.
O'Connor was excited about the community room the new facility will hold. While the Merc currently offers educational programming, classes must be scheduled at an off-site location.
"To have that room in our store means we can do a lot with education right (there)," O'Connor said.
Other changes to the Merc will be aesthetic, with new plants and green space outside the store and fresh paint, flooring and shelves inside the store.
Store officials said the move will offer much-needed space for products. Because natural food has become a booming industry, the Merc needed room to accommodate its growing popularity.
"We knew that we needed to do something but to have a chance like having Alvin's open up was a once-in-a-lifetime opportunity," O'Connor said.
Customer support has generally been "overwhelmingly positive," O'Connor said. However, some customers are worried that the move will change more than the Merc's location.
"Some people fear that we'll lose part of who we are and that intimacy and feeling of community," O'Connor said.
However, store managers said the Merc, in its 26th year, has survived because of its continuing commitment to the community and its dedication to service and education in Lawrence.
In turn, Wells said, the city has responded positively to the Merc, Lawrence's only completely locally owned grocery store.
"It's been highly supported by the community. Otherwise, we wouldn't be making this move," Wells said.
Store managers also said they were astonished and proud that their local cooperative store has enlarged to the point of a major expansion.
"It's amazing, that amid corporate takeovers and mergers, that store with roots like ours would flourish," O'Connor said.
Copyright 2018 The Lawrence Journal-World. All rights reserved. This material may not be published, broadcast, rewritten or redistributed. We strive to uphold our values for every story published.