See Spot run. And run. And run.
At the new off-leash dog park, Spot would be allowed his fun.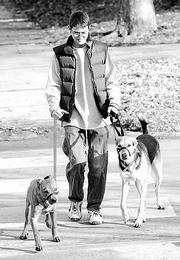 Earlier this year, Lawrence city commissioners approved plans to create a park where dogs can run free on more than 30 acres of city-leased property north of the Clinton Lake spillway. Fred DeVictor, city parks and recreation director, said the project will cost $13,030 for restrooms, signs and a parking lot.
The off-leash park concept was born in summer 2000 from an outcry after Kansas University police began enforcing the city's leash law at Potter Lake and Campanile Hill. More than 50 dog owners formed Lawrence Dogs and Owners Green Space (LDOGS) to find a place for their pets to roam free.
DeVictor said owners often illegally unleash their dogs at city parks.
"We think, hopefully, there will be some spin-off effect," he said in a January interview. "It might get people to go to this site and reduce problems we have in other parks."
The biggest problem usually is unrestrained dogs bothering other park users, he said.
Not all dog owners, of course, would use the proposed park.
Pet World employee Heidi Habiger said she probably wouldn't take her three dogs, when the park becomes reality.
Her husky-chow mix, Shar-Pei and rat terrier just don't play well with others, she said. She's worried the dogs would fight.
And Clinton Lake is too far away, Habiger said as she stocked chewable sow ears and rawhide sticks.
"I don't go out that way," she said. "They'll just keep playing in the back yard."
DeVictor agreed the site is out of the way. And if dogs are given full freedom, their owners won't be: They'll be required to keep their dogs out of fights and clean up their messes.
Over by the doggie sweaters at Pet World, canine owner Stacey Barnes said she thought a dog park was a good idea. The Kansas University student has a Pekingese puppy named Peanut.
"When it gets warm, it'll be good for dogs to be outside," she said. "I want Peanut to interact with other dogs."
Cat people should just look for another park.
"I'm more of a cat person," said Sam Ford, a KU sophomore and Pet World employee. "Can other animals go?"
No, DeVictor said.
"This is something we're doing for dogs," he said. "Dogs and cats don't mix."
Copyright 2018 The Lawrence Journal-World. All rights reserved. This material may not be published, broadcast, rewritten or redistributed. We strive to uphold our values for every story published.