Topeka — With prospects dimming for a multimillion-dollar tax increase for education, legislators were studying how they could raise school funding significantly in the 2001 session.
Members of the Senate Education Committee met Thursday to begin paring back a two-year, $263 million plan that the full Senate had sent back a day earlier for revisions.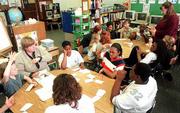 The panel's work was shadowed by Wednesday's other troubling development new revenue estimates showing that legislators needed to cut $185.5 million from the fiscal 2001 and 2002 budgets.
After weeks of lobbying for a more grandiose plan, education advocates hope to hold on to the $68 million increase that Gov. Bill Graves recommended and that both chambers already have approved in a $9.11 billion budget bill. No new taxes would be needed for that increase.
Sen. Lynn Jenkins urged committee members to "keep their heads about them" as legislators moved closer to their annual spring break.
"Everybody is digging in their heels. I hope we're willing to compromise," said Jenkins, R-Topeka.
By Tim Carpenter Supt. Randy Weseman offered a bleak budget outlook Thursday, including the potential for no pay raises for Lawrence teachers and cuts in district programs if the Kansas Legislature failed to raise taxes to support public education."If they give us nothing, we have to talk about major cuts," he said. "That would include a hiring freeze. No raises."We'd have to start looking at what are the absolutes."He said huge tax cuts always sounded wonderful to politicians, but tightening the revenue stream could have severe consequences for public school districts that depend on state appropriations."It's awful when you have to educate kids," he said.The Lawrence district's budget committee, which is developing a spending plan for 2001-2002, met Thursday with Weseman at Free State High School. The committee convened one day after state legislators learned an economic slowdown likely would result in the collection of $185.5 million less in state revenue than anticipated by July 2002.The district's committee absorbed that news while examining $3.3 million in new spending proposals for Lawrence schools. That total only factored in a 1 percent, or $360,000, increase in teacher pay.Last year, teachers negotiated a 3.3 percent increase in salary and benefits.Wayne Kruse, president of Lawrence Education Assn., said a budget that didn't include raises for teachers would be intolerable."Of course, it's not acceptable," Kruse said. "Raises have been minimal for many years."He said cutting spending on programs that weren't directly tied to the classroom would be better.For example, the district's committee discussed denying a $140,000 request from Lawrence Police Chief Ron Olin to continue a program that places police officers in schools. Grants financing the program are expiring."It's a good program and it's helped us a great deal," said Joe Snyder, committee member and principal of Free State High School. "I'm speaking for myself. It's not worth $140,000 to the district."Others on the committee questioned a request for $123,000 to hire nine new elementary school library assistants and a plea for $75,000 to expand all-day kindergarten to Woodlawn and Pinckney schools.Weseman said the district would have to deal with a projected increase of 14 percent in health-insurance costs. He also said routine expenses, including a $350,000 rise in utility costs, were a worry.The district might survive one more year of insufficient funding from the Legislature, Weseman said. But savage cuts in district programs will be required without a big boost in state appropriations in 2002, he said."A couple years of nothing from the state ... people can't get the ship out of the harbor."
Senators originally proposed funding the plan by increasing taxes on sales, liquor, tobacco and soft drinks. No taxes or funding mechanisms were discussed Thursday.
Sen. Dwayne Umbarger, R-Thayer and Education Committee chairman, said he hopes the group will have a smaller package that passes muster with colleagues before the Legislature breaks Friday.
Committee members said they still want to raise the base state aid per pupil, currently $3,820, and do more for special education. Also high on the list is raising teacher salaries.
The House also took up school finance bills, tentatively approving a measure to let allow school districts raise their local option budgets, or LOBs, extra spending financed through local property tax levies.
The bill was amended to require the state's 304 school districts to provide a detailed audit of how funds are spent. A final vote on the bill was set for Friday.
Currently, districts may increase their budgets by a maximum 25 percent through local property taxes, and district residents can force a vote. The House bill would allow districts at the 25 percent limit to raise the LOB up to 30 percent, subject to voter approval.
Legislators argued raising the LOB limit allowed districts particularly those in wealthier areas of the state to exercise a degree of local control over funding and curriculum
However, raising the cap on LOBs puts the state at risk of losing $10 million in federal aid. The aid is contingent upon the difference between the highest and lowest district budgets being no more than 25 percent.
Copyright 2018 The Associated Press. All rights reserved. This material may not be published, broadcast, rewritten or redistributed. We strive to uphold our values for every story published.